This is a blindpost from this Lifehacker article. As I read it I found myself wondering how I would answer these same questions, so I decided to do just that!
What apps/software/tools can't you live without? Doesn't have to be tech.
Mine are all tech, of course. Evernote, Gmail, Google Calendar, Google Drive for business file storage, Dropbox for personal file and photo storage, and the Nibblr app to see the latest and greatest daily videos. It's important to have fun (and to promote your own products ;)
What's your workspace like?
I recently moved to a standing desk in the Dragon Army office and I'm thrilled with it about a month in. It looks like this. I use a Macbook Pro Retina at the office and almost always leave it there, taking only my iPad Air home with me. For the iPad Air I have a Logitech Fabric Skin Keyboard Folio that allows me to use the iPad as a laptop but also easily pop it out to use it as a tablet. I love that thing (see below).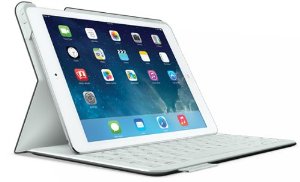 What's your best time-saving trick?
I live inside my Gmail calendar. Even if I just need to bang out email, I'll try to block off an hour on my calendar so I make sure I don't schedule anything in that time.
What's your favorite to-do list manager?
I've tried them all and over time I always lose interest. I'm currently working with a friend on a way to use email as a to-do system. So far its been a fun experiment and I expect I'll write a post on how we're doing it.
Besides your phone and computer, what gadget can't you live without?
I've tried all the gadgets, but other than my Samsung S4, iPad Air and Macbook Pro Retina, there aren't any other gadgets that have been consistent. I've been a Fitbit and Pebble watch user, but for the last several weeks I've barely used them. I'm excited about the Kreyos watch that hopefully will be shipping soon, so we'll see if that makes the list.
What everyday thing are you better at than anyone else?
First, I'd never say I'm better at something than anyone. But the thing that I think I have an easy time with that maybe other leaders struggle with is feeling comfortable trusting others. As the leader of a business, I believe my #1 job is to create the vision, bring in the right people to help us get there and then empower them to be as successful as they can be. I don't micromanage or dictate process. If I brought in the right team I should trust them to be great at what they do.
What do you listen to while at work?
I have a playlist on Google Play Music (I subscribe) that I listen to. It has random songs like Radioactive, Orange Crush and Black Skinhead (don't be scared by that title, the song is incredible).
What are you currently reading?
I just finished the book, The Everything Store: Jeff Bezos and the Age of Amazon, and it was phenomenal. I'm trying to work my way through my Pocket list before I start another book.
Are you an introvert or an extravert?
Extravert.
What's your sleep routine like?
What routine?! I have four young children and two dogs (a puppy and an old lady) so there is no sleep routine to speak of at my house. I wouldn't change a thing, but consistent sleep isn't a luxury we have at the moment.
Fill in the blank: I'd love to see ______ answer these same questions.
What's the best advice you've ever received?
I've had the amazing benefit of having mentors throughout my career that have given me a ton of great advice. I don't think I could put my finger on any one thing, but more than anyone Ken Bernhardt has helped me with advice in ways I'll never be able to repay him.
Is there anything else you want to add?
Evernote is my computer brain and probably my favorite non-Google software.