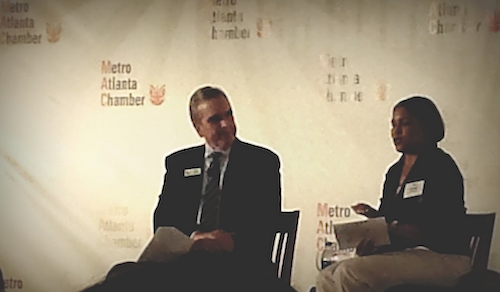 Yesterday I had the great pleasure, along with several of my Leadership Atlanta classmates, to attend the Metro Atlanta Chamber's signature CEO event with Rosalind Brewer, CEO of Sam's Club. I had seen her speak before (and blogged about it) and wasn't going to miss this chance to see her in action again.
The setup was a fireside chat with Sam Williams, CEO of the Chamber, interviewing Roz in a very candid and open format. This is the same format Sam interviewed me in last month and it really allows for some great discussions. As she did when I heard her before, Roz spoke from the heart and you could tell she is someone that is honest and true to who she is.
There was one part of her talk that really left an impression on me and its something I've been thinking about a lot lately. She was asked about her leadership style and she talked about the importance of being authentic as a leader. She said that once she decided she could be herself at work, everything started to change. It allowed her true personality to come out and she became more sure of herself and more confident. She said that her relationships at work began to grow and she was able to relate to her co-workers better, building more trust and open dialogue.
I've talked about the importance of authenticity for leaders before but to hear Roz talk about the impact it has made on her career, I'm going to try even harder to be authentic in everything that I do. Clearly, its a recipe for success!