My goal in 2018 is to read 52 books. Here is a list of all the books I've read so far this year. Each book is ranked on a 5-star scale (5 is best).
***** 1776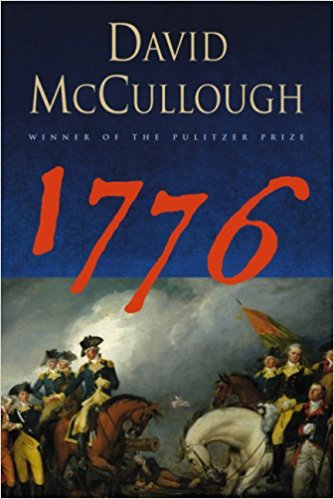 I've been on a bit of a history kick lately, mostly focusing on Bobby Kennedy and the late 1960's. I'm not sure what prompted me to try 1776 , but I'm so glad that I did. It was AMAZING. One of the easiest 5-star reviews I've given.
I'm always impressed by authors that can make history books read like fiction books. Fast-paced and story-driven, this book puts you right in the action of the beginnings of the Revolutionary War, focusing mainly on George Washington. What struck me the most was how incredible the odds were against Washington and his "army", if you can call a group of men farmers that had little to no training, education, or official equipment (other than what they brought from home, which sometimes included hoes and shovels,) an army.
Admittedly, I was a very poor student in history class. I found all of my history classes to be boring and irrelevant to what was going on in my life. While that is not the way one should approach their classes as a kid, I will say the side benefit is that when you actually learn about history later in life, you're hearing things for the first time!
Case in point: While I was reading this book, my 11-year old son said to me, "Dad, isn't it awesome what happens at the Delaware River?" And I said, "Don't tell me what happens, I haven't gotten to that part yet!" Clearly, I knew that something happened because I remembered that the words "George Washington" and "crossing" and "Delaware River" somehow go together, but I did not remember exactly why. It's fun to learn things for the first time…again :)
Amazon's description of 1776:
America's beloved and distinguished historian presents, in a book of breathtaking excitement, drama, and narrative force, the stirring story of the year of our nation's birth, 1776, interweaving, on both sides of the Atlantic, the actions and decisions that led Great Britain to undertake a war against her rebellious colonial subjects and that placed America's survival in the hands of George Washington.
In this masterful book, David McCullough tells the intensely human story of those who marched with General George Washington in the year of the Declaration of Independence—when the whole American cause was riding on their success, without which all hope for independence would have been dashed and the noble ideals of the Declaration would have amounted to little more than words on paper.
Based on extensive research in both American and British archives, 1776 is a powerful drama written with extraordinary narrative vitality. It is the story of Americans in the ranks, men of every shape, size, and color, farmers, schoolteachers, shoemakers, no-accounts, and mere boys turned soldiers. And it is the story of the King's men, the British commander, William Howe, and his highly disciplined redcoats who looked on their rebel foes with contempt and fought with a valor too little known.
Reasons why you might enjoy this book:
You want to try a history book that is actually readable
You want to learn more about George Washington and how this country began to win its independence
You're wondering what exactly happened at the Delaware River?!