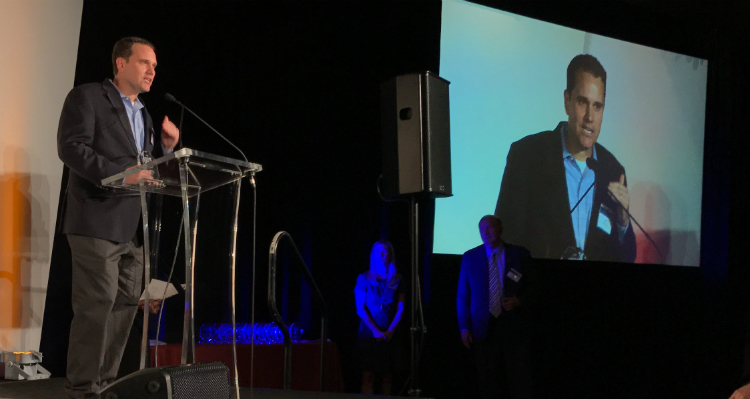 Last month was honored to be chosen by the Atlanta Business Chronicle as one of their Most Admired CEOs of 2017. I was so humbled to be in the company of so many incredible Atlanta leaders (leaders like Chick-fil-A's CEO, Dan Cathy; Arby's CEO, Paul Brown; Delta Air Lines CEO, Ed Bastian…), and honestly I felt like I was there prematurely…there's still so much more to do!
During the process the ABC asked me to do a Q&A on leadership, and I thought I would share the interview:
Atlanta Business Chronicle in July named our list of Atlanta's Most Admired CEOs of 2017. They were honored on Aug. 24 at a sold-out awards event at The Foundry at Puritan Mill. Here's a Q&A with one of the honorees, Jeff Hilimire, CEO of Dragon Army:
Q: What are the keys to CEOs building a high level of trust in their organizations?
A: Transparency is the key. The more open and honest you are with your team, the more they in turn will follow suit. That's where trust begins. For example, at Dragon Army our finances are completely open to all employees. Everyone has real-time access to see how we're doing each month, quarter and year. We're also open about our margins and where we spend our capital. This openness allows everyone to be on the same page and demonstrates trust across the board—or as we like to call it, "The Great Game of Dragon Army."
Q: Please tell us what leadership and being a leader means to you.
A: Leadership means creating and sharing a vision, bringing in the right people and putting them in roles that will make the vision a reality. Good leadership means getting out-of-the-way and supporting the team along the journey. Your job is to make sure the company is moving toward its goal, course-correcting when necessary and ensuring that it has a vibrant culture with strong values that can guide the decisions you make.
Q: Who is a favorite leader you admire, and why?
A: I am lucky to have several mentors and leaders that I admire. Today, I want to recognize two great individuals. 1.) Ken Bernhardt, who does everything with integrity and is a true leader in Atlanta's nonprofit community. He has a huge heart and isn't afraid to let it shine. 2.) Charles Brewer, who inspires me because he began Mindspring with only a vision in mind of what his corporate culture and values would be—even before he knew what the company would do. I try to learn from these two amazing leaders every time we get together.
Q: Please explain how you and your organization make tough decisions.
A: The number one key for us is acting quickly and decisively. When our leadership team has a big decision to make, everyone weighs in and hopefully there is a consensus on the path forward. If there is not, I ultimately decide, but our team knows that I've listened to their input. They trust that I will make the best decision for the long-term health of our company.
Q: Please give some details about one of your top accomplishments of the past year that you are mostproud of.
A: The team at Dragon Army has doubled in size since January, but it's not the growth that makes me most proud. It's the type of people we have been fortunate enough to hire. Together with our rockstar Head of People and Culture, Julia Lopez, we focused on adding greater diversity to the team. It is important that our staff is reflective of the inclusive world we live in today. Having a diverse talent pool is a crucial piece of our organization.
Q: How is your organization changing or adapting to prepare for the future?
A: The ethos of our company is rooted in our ability to stay on the razor's edge of technology. Understanding where technology is going and how we correlate that knowledge into the products we build, both with our clients and for our own studio, is core to who we are as a company.
Q: What top piece of advice would you share with other CEOs?
A: Focus, focus and focus some more! As the CEO, you don't have anyone day-to-day telling you what to do, so how you spend your time is the most important decision you'll make each day.
Q: What's one of the best books you've read recently, and why?
A: I recently re-read the book "Ender's Game" by Orson Scott Card, as part of Dragon Army's Book Club. Dragon Army actually got its name from that book. It's a terrific read that always helps me remember to think about things differently. "Moneyball", by Michael Lewis, is another book that helps me think about things in a new light. The ability to think innovatively is an imperative quality of a great leader.