In November of last year I decided to test out using a standing desk. Pics and stuff here. And after four months of giving it the old college try, I'm sad to say I'm back to a regular old sitting desk.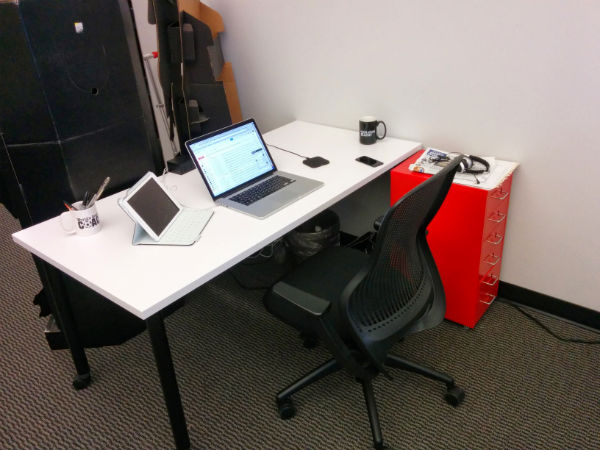 My new "sitting" desk
Things I liked about the standing desk:
It made me feel healthier. I'm sure my legs are stronger for it, and theoretically my posture and things improved, but that's hard to tell.
I was generally more active. When you're standing all day, I found you're more likely to walk over to someone's desk, greet someone at the door, etc.
Kind of a short list. Of course, I'm talking about things I like about a desk. It's not exactly the most exciting object in one's life.
The reason I ended up switching back wasn't because I minded standing. It was because I realized that while standing, I had a hard time focusing deeply on any one given task. It was as if my mind wasn't able to fully engage in meaningful work if my legs could up and walk around at any moment.
So I found myself going to another place – the couch in our office, somewhere else within the Village, a coffee shop – when I needed to really sit and work on something meaningful. Rather than ditching the standing desk altogether, I did set it up in our office so that anyone at Dragon Army could use it when they wanted. I think that will end up being the best option, to be able to stand when you want and sit when you want.