I've been reading more, and less, books because of the Kindle. Let me explain. The Kindle (likely other ebook services do this to) allows you to send a sample of a book into your queue before you buy it. This way in most cases you can read the first chapter and get a sense of whether or not the book is going to be something that will keep your attention for the long haul.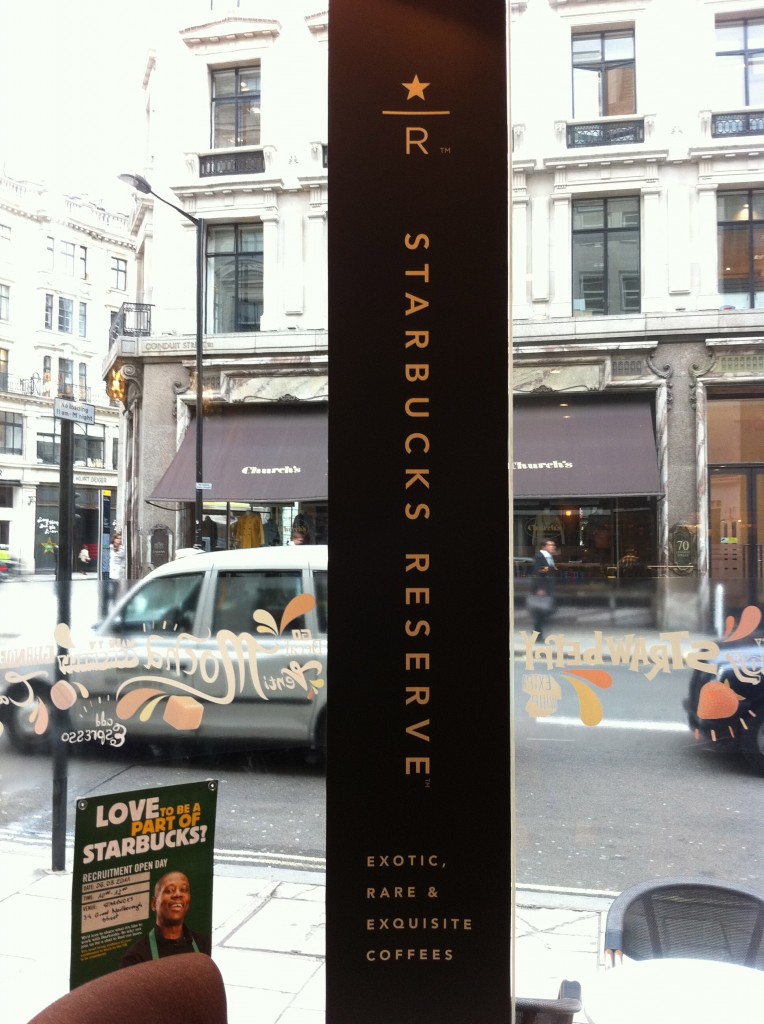 When someone tells me about a book I should read, I don't jot it down on a napkin or send myself an email with the title to remember later. I quickly fire up the Amazon app on my iPhone and send the sample into my Kindle queue. It's awesome.
Because of this I've found that there were many books I thought I'd want to read that, upon reading the first chapter, turns out I wasn't that interested. And then there were other books, books like Onward by Howard Schultz, that I didn't think I would be interested in at all. But I saw it in a Starbucks several months ago and thought, couldn't hurt to check it out. I'm really glad I did.
I've never been a big Starbucks fan. I didn't dislike Starbucks either. They were just kinda…there. This book, however, changed the way I look at Starbucks and oddly I've become a pretty loyal customer ever since. Actually I'm writing this in the Starbucks on Conduit Street in London (foursquare link). In fact this one is a "Starbucks Reserve: Exotic, Rare & Exquisite Coffees", which I've never seen before. And it has a wicked basement deal going on (see video below).
The book itself is the story of Schultz as the leader of Starbucks, focusing mainly on his "comeback". His passion for coffee is unparalleled. Reading his thoughts on coffee, how and where its made and the way it smells and tastes when its made correctly, inspired me to drink better coffee. And I have been, even getting a french press at home. Makes a big difference.
I can't imagine another leader being more passionate about their company than Schultz. He loves coffee the way Jobs loves a perfectly designed device and the way Dick Vitale loves a Duke mid-range jumper. But its his fearlessness to make decisions, to stand by his passionate beliefs, that inspired me. He's one of those leaders, again I point to Jobs as an example, that is willing to make the unpopular choice and back his innate intuition just when the company needs it the most.
Schultz has a quote in the book that I actually blogged about a few months back but I had to include again here. I absolutely love this quote:
I've never bought into the notion that there is a single recipe for successful leadership. But I do think effective leaders share two intertwined attributes: an unbridled level of confidence about where their organizations are headed, and the ability to bring people along.
You should read this book…or at least send yourself a sample ;)