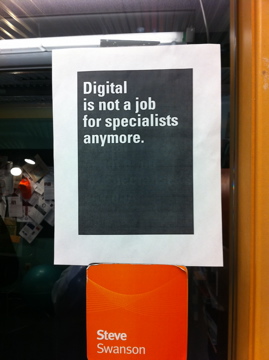 I saw this sign on Swanny's door (Steve leads client services at Engauge) while in our Columbus office this week and I had to grab a picture of it.  Also I should point out that Swanny is the only person I know that doesn't have a desk you can sit at in his office.  It's a standing desk.  It's fantastic.  Although I will never have an office again, if I did, I'd try a standing desk so that I'd never find myself just sitting in my office all day.
But this sign got me thinking.  And this statement is probably six months too early, but here it is: SOCIAL IS NOT A JOB FOR SPECIALISTS ANYMORE.
Social, or social media, social marketing, whatever you want to call it, does not belong in a box.  It does not belong in one department, under only one leader, only in one person's head at your company.  Social should be a part of every conversation, and not just the marketing conversations.
Social represents the ability to connect with people via a digital means, to have a dialogue with them and to engage with them directly.  It means a lot of things and I've debated the true meaning of social many times, with many people.
Your HR department should embrace social and use it to attract and retain your staff.  Your marketing department should use it to form deeper, more loyal relationships with your customers.  Your PR department should use it to spread communications and build advocacy.  Your customer service department should use it to answer customer questions on a mass scale.  Your CEO should use it to spread the mission of the company to your most engaged fans.  Your finance department…ok, maybe not your finance department ;)  But most groups within your company should understand the power that social provides.
If you stick social in a group and don't expose it to the rest of your organization, you're only going to get the surface level benefits that it provides.  You'll basically be chasing likes and follows.  At Engauge we have the Digital Innovation Group (DIG) that eats, sleeps and breaths social and emerging tech.  This is helpful because it allows for an expertise to be built and a deeper level of understanding in these mediums, much more so than could be achieved by random individuals across a company.
However, DIG is constantly working with the rest of the agency, providing guidance and education, hosting lunch & learns, running webcasts, producing podcasts, all in an effort to ensure that the power of social isn't confined to just within that group.  And the result is that social is part of every client, campaign, or project, at least from a "how can social help fuel this idea" standpoint.
Make social something that isn't just a job for specialists at your company much the same way that digital should permeate your entire organization.  Only then will you start to realize the full benefit of social media marketing awesomeness.