Facebook announced their intentions of making the web a more social experience via what they are calling the Social Graph at their F8 conference last week.  They also mentioned that Pandora was one of the first sites to incorporate these new plans.  This is just a small glimpse into the future of the social web…
When on Pandora, I now see which of my friends (Facebook friends of course) also like the station I'm listening to.  That looks like this: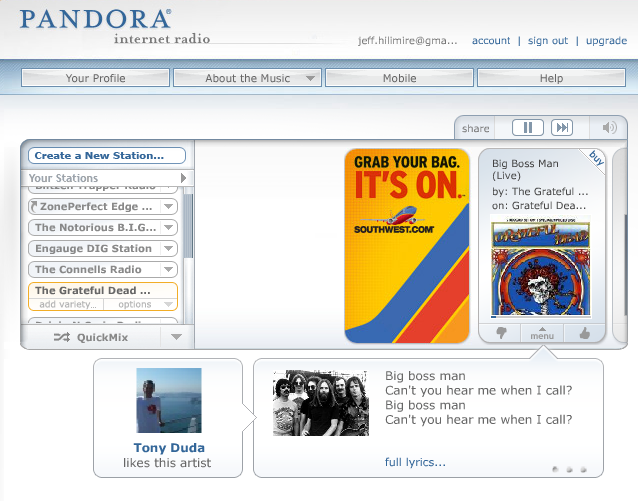 Here you can see that my buddy Tony Duda is also a fan of The Grateful Dead.  I can click on Tony's name and then see the other stations he likes…which looks like this: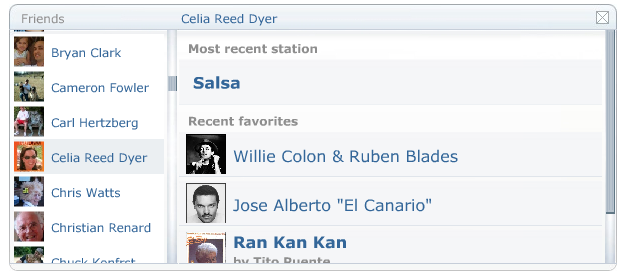 Here you can see that my friend Celia Dyer (hi Celia!) is a fan of Willie Colon, Ruben Blades and some other singers I've never heard of :)  I can click on her name and leave her a message if I want to.  Maybe something like, "How'd you get into such crazy music?", as an example.
Suddenly Pandora is a much better experience for me.  And I didn't have to create a new social network on the site to connect with my friends and hope they all move over.  Nope, I already have my friends in Facebook, now I can connect with them on Pandora very easily.
This is only the future of where the social web is headed.  It's basic and simple but its already going to improve the web experience immensely.
Just think of user reviews on travel sites.  How brilliant will it be when you can look at resorts to stay at for your ten year anniversary and instead of seeing 100 reviews from random people, you see 5 reviews from your friends that have stayed at that resort.
Or you're shopping on Amazon and you see that 5 of your friends, not complete strangers, recently purchased and gave 5 stars to a product you're considering buying.  Want to ask them questions about it?  No problem.
We've only begun to image what this new social web will feel like.  I'd argue that we're finally going to experience what people have been calling "Web 2.0″ for 5 years now.
Personally, I can't wait.