Why the Google Pixelbook Go is the best laptop in the world (for me)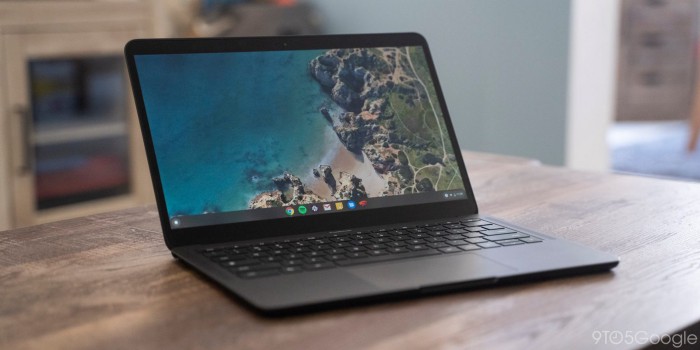 I'm not someone that needs a 'desk'. Not really. Yes, I have a desk at the Dragon Army office (but no personal office, of course). But I'm probably at that desk less than 10% of the time. I prefer to be out and about throughout the office, working where I find myself.
All I need is a great laptop, a great phone, and I'm good to go. Maybe some headphones here and there.
I really like to be portable. The idea that I can be dropped into any city and be able to work just as easily as if I was at the office is very appealing to me. Not because I travel a ton — I don't — but because it allows me the freedom to work where I want, when I want, and how I want.
And it was with this mindset that I decided to try the Pixelbook Go about four months ago. When it was first announced, I loved what I was hearing. "Built for people on the go" sounded like something I'd be interested in. But…I'd been a loyal Macbook user for over ten years…could I really switch?!
I started to think about what I use my laptop for. Mostly email, writing, and creating/reviewing documents and spreadsheets. That's pretty much it. I don't do anything advanced or complicated. I have no real skills anymore :)
And here's the thing — I do all of that work within a browser:
Email: Gmail (web)
Writing: Medium, WordPress, and Google Docs (web)
Documents and Spreadsheets: Google Drive (web)
So basically I was using my Macbook as a Chromebook. And wouldn't an actual Chromebook, one made by Google for Google services, be a better experience?
I decided to give it a try. I plunked down my $850 (cheap, right?!) for the i5 8GB RAM, 128 GB Storage version and waited patiently…yeah right, I was checking my email daily for an update on shipping…for my new laptop to arrive. And when it did, I couldn't help but think that Google is now copying the Apple playbook when it comes to the box/packaging for their products. I ripped it open and got to work.
Four months later, and I'm hooked. Before I get into why, I will say there are two times I've had to use the Mac Mini at my house since I've switched. One is to use iMovie to create some home movies (I'd love anyone's ideas on how I could do this kind of thing on a Chromebook), and the other was to edit a few presentations in Powerpoint. Yes, we use Google Slides a lot for this, but when I have to give my presentation to someone to run on their computer, that becomes problematic. Other than those two experiences, I've been able to do everything I need on this device.
My favorite aspects of the Google Pixelbook Go
Design. Back grip, ultra-light.
One unique thing about the Go is that they've made the bottom of the laptop with ridges, which allows for a nice grip experience. It's a small but nice touch, and makes the device that much more portable.
It's also really well built, coming as close to an Apple experience as I've seen. Let's put it this way: it looks pretty terrific, if you're into that kind of thing ;)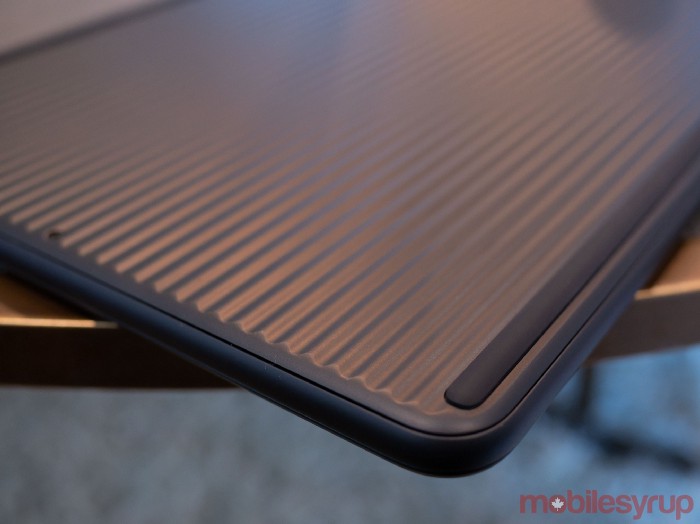 Portability without sacrifice.
This thing is super portable. Slim, light, grippy…it really is the ultimate device to grab and use on the go. And I have to be honest, I've dropped it once, onto a concrete floor no less, and it didn't shatter. I've done the same thing with a Macbook and it was game over. Whatever this thing is made of, it's durable.
Everything and anything Chrome.
This may seem obvious but a Chromebook built by Google makes all the Google services and connections work just that much better. It's akin to being an iPhone and Mac user — everything just works seamlessly. Having Google "built in" is hard to pass up if you're a Google-for-everything kind of guy like me.
Connection to the Google Pixel 4.
This is a fun one and applies only to people with the Google Pixel phone (which I have, and which I love). There are two unique things about having the Pixel phone and the Pixelbook Go laptop. The first is that your phone unlocks your laptop. Such an obvious and simple feature, but to be able to simply open my laptop and have it unlock because my phone is next to it is great. No more passwords or fingerprint readers.
The second thing is that the Pixelbook Go can automatically tether to your phone, so you never have to think about being connected to the internet. This is huge for me and one of the reasons I used the iPad Pro for so long. With a built-in cellular connection (why don't more laptops have this?!) it became a great device to use out and about. I have to admit, this feature of immediately tethering to my Pixel phone was one of the biggest reasons I wanted to try this laptop. And it works great.
The glorious, glorious keyboard.
I never knew the importance of a keyboard until I started using this laptop. The keyboard just feels…great. Like, super great. Like, I want to type on it, which is a terrific feature for a writer. I don't know how to explain it other than to say if you're around me and I have this device (which is pretty much always), ask me if you can type on it. You won't regret it :)
The battery is sick.
The last major thing I love with the Pixelbook Go is the battery life. Perhaps because it really only uses a browser, or because Google focused on the battery during production, but whatever the reason, the battery life is better than anything I've used before. It gets a legit 10 hours of usage for me, which again, lends it to being a terrific on-the-go laptop.
---
In a world where we're all more portable, where battery life and connectivity is critical, and where (more and more) we're using a web browser for most of our daily workflow, I'd suggest you consider giving the Google Pixelbook Go a try. I actually prefer it over the more expensive Pixelbook for all the reasons I mentioned above. If you use a lot of advanced software (for example, my wife uses Adobe Photoshop for photo editing), then it cannot be a full replacement for your laptop. Otherwise, it's a great, inexpensive device that should be in your consideration set.
Before you leave
I run a weekly email newsletter where I send interesting articles and books I'm reading, productivity hacks, leadership lessons, and an update from that week's blog posts. There is exclusive content that only comes out in the email!
If this sounds interesting, you can use this link to sign up!