Having less time makes me a better leader
With each year that passes, we end up having 'less time'. By that I mean, new things pop up in our lives that fill up our days. Things like getting married, having a child (or another…or another…or…), new commitments added without dropping old commitments, new sports to watch that we never thought we'd be watching…the list goes on.
Like you, I'm pulled in a lot of directions. I have a massive family, and they come first. I'm committed to living toward my Purpose – to have an out-sized, positive impact on the world – and through that I end up with more nonprofit and community commitments. I also make it a priority in my life to read as much as I can, with a goal this year of reading 53 books. And I enjoy running, having just completed my first marathon a week ago. Oh, and I'm publishing my first book soon…
And then, somehow with all of those aspects of my life, I'm also the CEO of Dragon Army. And I LOVE MY DRAGONS :) Here's a shot of us on the annual company cruise we just came back from: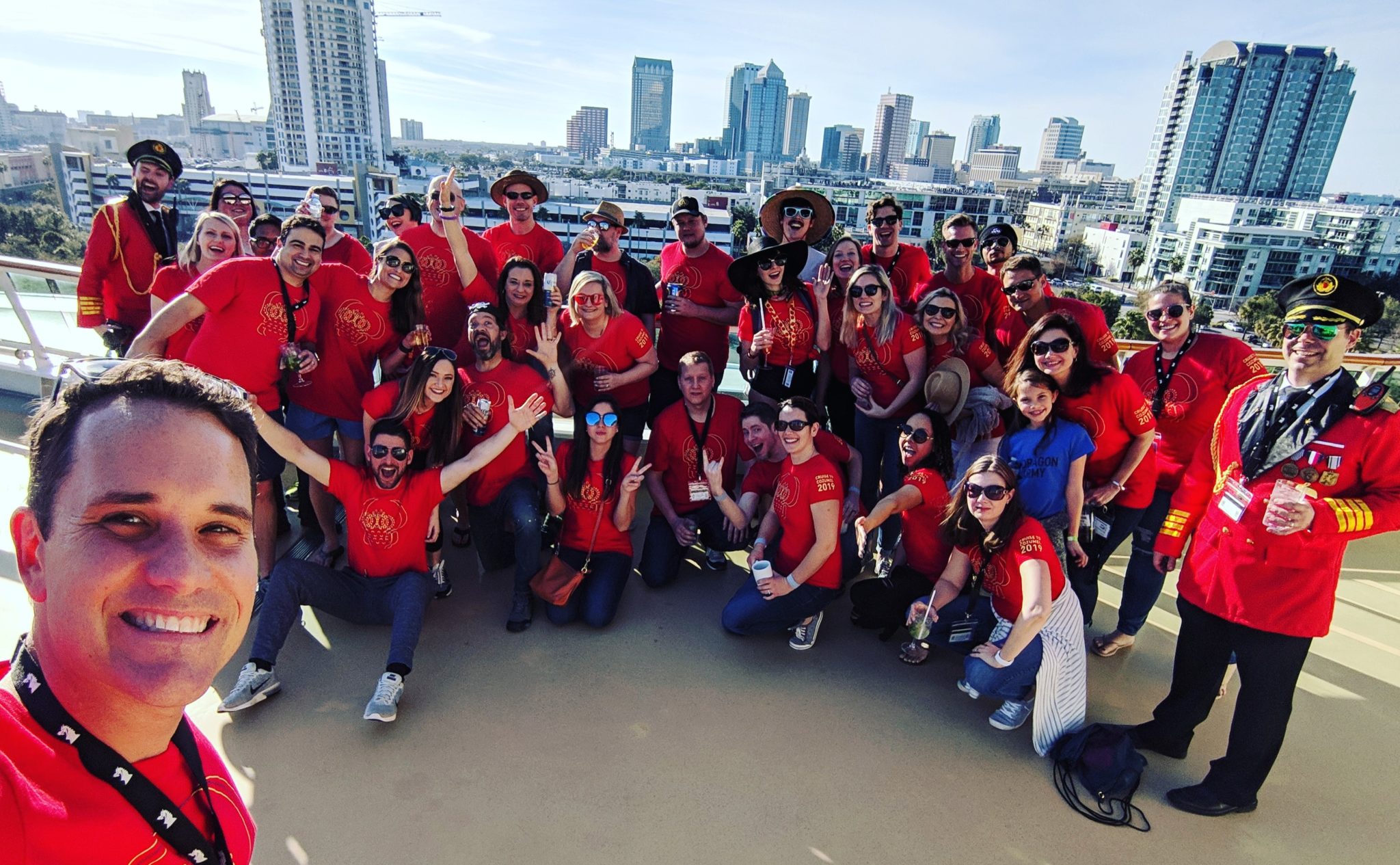 The funny thing is, I've learned over the years that having less time makes me a better leader.
True, having less time doesn't help me spend more time on the business.
And having less time certainly doesn't help me get more things done on a day-to-day basis.
When you have less time, you're forced to make the most of it. To be as productive as you can be. To be smart about how you spend your time.
When I was a young man, in my early 20's, I would work 12-hour days with no problem. I'd get into the office as early as possible and be home for dinner, and then working later that night. I would work weekends, on holidays, and yes, regrettably, I was doing a little work on my honeymoon…she's forgiven me…kinda ;)
But when you have loads of time, you aren't as focused. You just…work. You grind it out. You achieve progress through blunt force effort. And it can work, but it doesn't make you a better leader.
Additionally, having less time forces me to give more responsibility to my team members. Delegation, as I've often said, is one of the most important and most often over-looked skills of any successful leader.
So I'm embracing this period of my life where time isn't as easily accessible. I'm committing myself to being even more productive. I'm constantly looking at my calendar and optimizing it in order to be as effective as possible.
How about you? What are you doing to better manage your time?