My goal in 2018 is to read 52 books. Here is a list of all the books I've read so far this year. Each book is ranked on a 5-star scale (5 is best).
**** Saturn Run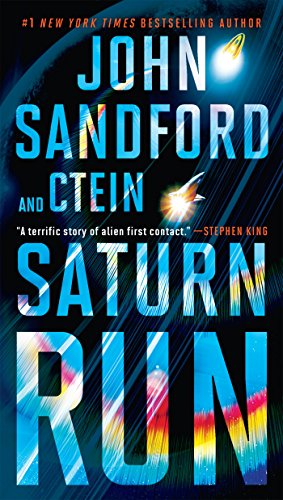 I thoroughly enjoyed this new book by John Sandford. I'm a huge fan of Sandford's Prey books, so I was intrigued when he wrote this novel about a futuristic space race. Having loved The Martian – I mean, who didn't – I thought I would give this one a try. While not quite at the level of The Martian, it was close, and I read it in probably four days.
Amazon's description:
For fans of THE MARTIAN, an extraordinary new thriller of the future from #1 New York Times–bestselling and Pulitzer Prize–winning author John Sandford and internationally known photo-artist and science fiction aficionado Ctein.
The year is 2066. A Caltech intern inadvertently notices an anomaly from a space telescope—something is approaching Saturn, and decelerating. Space objects don't decelerate. Spaceships do.
A flurry of top-level government meetings produces the inescapable conclusion: Whatever built that ship is at least one hundred years ahead in hard and soft technology, and whoever can get their hands on it exclusively and bring it back will have an advantage so large, no other nation can compete. A conclusion the Chinese definitely agree with when they find out.
The race is on, and an remarkable adventure begins—an epic tale of courage, treachery, resourcefulness, secrets, surprises, and astonishing human and technological discovery, as the members of a hastily thrown-together crew find their strength and wits tested against adversaries both of this earth and beyond. What happens is nothing like you expect—and everything you could want from one of the world's greatest masters of suspense.
Reasons why you might enjoy this book:
You're a fan of Sandford's books, as this one has the same pace and great character development
You loved The Martian
You're a science/space geek (I am not, btw)