Book #24: Living with the Monks
My goal in 2018 is to read 52 books. Here is a list of all the books I've read so far this year. Each book is ranked on a 5-star scale (5 is best).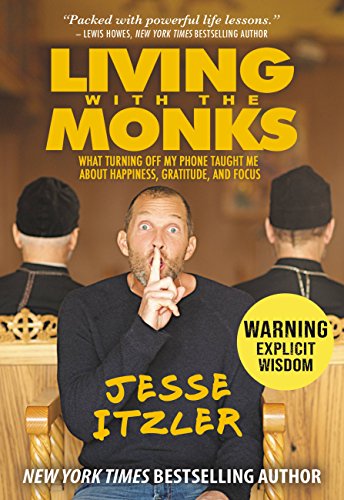 I really enjoyed Jesse's first book, Living with a Seal. In that book, Jesse invites a Navy Seal to live with him for a month and train him. The result is hilarious and motivating, and you start to realize just how unique Jesse is.
In this follow up book, Jesse goes on a similar adventure, this time deciding to live with monks to quiet his mind and take stock of his life. While humorous at times, and interesting to understand more about the way this particular group of monks lives, it felt like there was maybe 50% of a book here and Jesse needed to fill the rest of it up. I have a feeling that, if he had gone to one of these kind of monasteries, instead of one in upstate New York, it would have been a more entertaining (and difficult) experience.
I'd recommend considering listening to his books on Audible, as he reads them and does a good job pulling you into the stories.
Amazon's description:
Equal parts memoir and road map to living a less stressful and more vibrant life, bestselling author Jesse Itzler offers an illuminating, entertaining, and unexpected trip for anyone looking to feel calmer and more controlled in our crazy, hectic world.
Entrepreneur, endurance athlete, and father of four Jesse Itzler only knows one speed: Full Blast. But when he felt like the world around him was getting too hectic, he didn't take a vacation or get a massage. Instead, Jesse moved into a monastery for a self-imposed time-out. In Living with the Monks, the follow-up to his New York Times bestselling Living with a Seal, Jesse takes us on a spiritual journey like no other.
As Jesse struggles to fit in amongst the odd but lovable monks, self-doubt begins to beat like a tribal drum. Questioning his motivation to embark on this adventure and missing his family (and phone), Jesse struggles to balance his desire for inner peace with his need to check Twitter. But in the end, Jesse discovers the undeniable power of the monks and their wisdom, and the very real benefits of taking a well-deserved break as a means of self-preservation in our fast-paced world.
Reasons why you might enjoy this book:
You like to challenge yourself and are inspired by those that do, then you should read both of his books
You enjoyed his first book, Living with a Seal
You want to learn more about Jesse and Sara's (his wife) background, as he spends a lot of time on both of their personal histories. As they've both been very successful, its interesting to learn more about how they did it.