My goal in 2018 is to read 52 books. Here is a list of all the books I've read so far this year. Each book is ranked on a 5-star scale (5 is best).
*** Factfulness: Ten Reasons We're Wrong About the World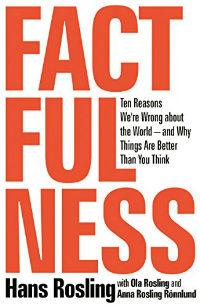 I picked up this book because my man Bill said its the most important book in the world…or something like that. And it's because of Bill and his buddy Warren that I try to read a book a week, so I figured I better give it a try.
In many ways, this book was INCREDIBLE. And I get what Bill was thinking when he said everyone should read it. I was so wrong about the state of the world. My perception was that things were way worse than they actually are, and I'm now more hopeful. That said…
I had two problems with this book. The first is that I'm someone that believes by and large people aren't as thoughtful and caring about their fellow humans as they should be. And I put myself in this same category as I want to continue to work to be a better person, helping others where and how I can. My fear is that someone would read this book and say, "Oh, ok, let me dial back how much good I try to do because things aren't really as bad as I thought."
My second problem is, this book is great about telling the facts (hence the name,) but light on what to do with that information. The author smartly says, "you're wrong about how bad things are, and you need to know the truth!" but never says why you need to know the truth. Perhaps its so people don't stress so much? But again, what is the end result of that, to do even less to help others?
All that said, this really is a terrific book, and if he publishes another that focuses on how to use this information to continue making the world a better place, I'll read that one as well :)
Amazon's description:
Factfulness: The stress-reducing habit of only carrying opinions for which you have strong supporting facts.
When asked simple questions about global trends—what percentage of the world's population live in poverty; why the world's population is increasing; how many girls finish school—we systematically get the answers wrong. So wrong that a chimpanzee choosing answers at random will consistently outguess teachers, journalists, Nobel laureates, and investment bankers.
In Factfulness, Professor of International Health and global TED phenomenon Hans Rosling, together with his two long-time collaborators, Anna and Ola, offers a radical new explanation of why this happens. They reveal the ten instincts that distort our perspective—from our tendency to divide the world into two camps (usually some version of us and them) to the way we consume media (where fear rules) to how we perceive progress (believing that most things are getting worse).
Factfulness is an urgent and essential book that will change the way you see the world and empower you to respond to the crises and opportunities of the future.
Reasons why you might enjoy this book:
Like me, you've become a big fan of the older, wiser, more caring Bill Gates, and you think if he says something is a must read, then its probably a must read
You're a student of the world or you want to be
You're a factual person who like facts, topped with more facts, stuffed into a fact sandwich and topped with…
You want to impress people at your next dinner party
You're stressed about how things are going in the world and want/need to be reassured that things aren't as bad as you think (and seemingly, they aren't)