Book #19: My Year of Running Dangerously
My goal in 2018 is to read 52 books. Here is a list of all the books I've read so far this year. Each book is ranked on a 5-star scale (5 is best).
***** My Year of Running Dangerously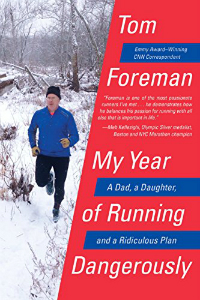 I had no expectations when I ordered this book on Audible, only that it was recommended based on a few other "running" books I have read in the past. In this book, CNN correspondent Tom Foreman decides to start running again when his 18-year old daughter asks him to run a marathon with her.
Tom is a natural writer, and I found myself laughing out loud through-out the book. And it was fun to read about his running journey. As a runner, I've really enjoyed books that show the journey of preparing for and competing in extreme races. Books like Born to Run (one of my FAVORITE books,) Eat to Run, Running Man, and even Shoe Dog. But what I LOVED about this book and what put it over the edge to a 5-star review, was the story of his relationship with his daughter. As a father of two young ladies, some of the touching moments he shared made my eyes well up :)
Amazon's description:
CNN correspondent Tom Foreman's remarkable journey from half-hearted couch potato to ultra-marathon runner, with four half-marathons, three marathons, and 2,000 miles of training in between; a poignant and warm-hearted tale of parenting, overcoming the challenges of age, and quiet triumph.
As a journalist whose career spans three decades, CNN correspondent Tom Foreman has reported from the heart of war zones, riots, and natural disasters. He has interviewed serial killers and been in the line of fire. But the most terrifying moment of his life didn't occur on the job—it occurred at home, when his 18-year old daughter asked, "How would you feel about running a marathon with me?"
My Year of Running Dangerously is Foreman's journey through four half-marathons, three marathons, and one 55-mile race. What started as an innocent request from his daughter quickly turned into a rekindled passion for long-distance running—for the training, the camaraderie, the defeats, and the victories. Told with honesty and humor, Foreman's account captures the universal fears of aging and failure alongside the hard-won moments of triumph, tenacity, and going further than you ever thought possible.
Reasons why you might enjoy this book:
You're a runner and are looking for a little inspiration
You're a parent (particularly a father of a daughter)
You want a light-hearted, funny story to read…or listen to, which is how I 'read' this book