Book #18: Let My People Go Surfing
My goal in 2018 is to read 52 books. Here is a list of all the books I've read so far this year. Each book is ranked on a 5-star scale (5 is best).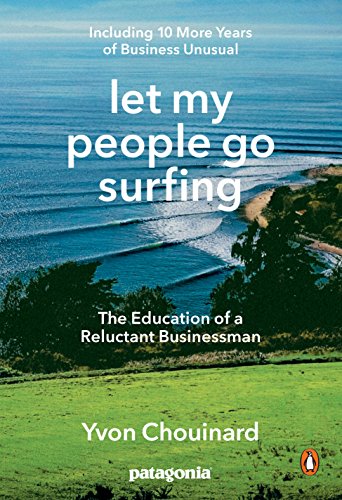 I read this book because, similar to the KIND story, I want to educate myself on businesses that see their place in the world as serving their community and doing good more than simply driving revenue and profit. My viewpoint is, revenue and profit growth unlocks a company's ability to do good in the world, not the other way around
And from just that perspective, this book, which is the story of Patagonia, gets five stars. Patagonia and its founder, Yvon Chouinard, seem very much put on this earth to be a positive force. Yvon goes so far as to say that he hates being called a business man because of the implications that come along with it.
Unfortunately, for me, he also uses this book to dive super deep into the in's and out's of various fabrics and materials that work best for someone with an outdoor lifestyle. Page after page on these kind of details had me searching for the 2x button (I listened to this on Audible.) However, the story is great and I'm now an incredibly huge fan of Patagonia, and as long as they keep fighting these kinds of battles, I'll remain in awe of them.
Amazon's description:
In this newly revised 10th anniversary edition, Yvon Chouinard–legendary climber, businessman, environmentalist, and founder of Patagonia, Inc.–shares the persistence and courage that have gone into being head of one of the most respected and environmentally responsible companies on earth.
From his youth as the son of a French Canadian handyman to the thrilling, ambitious climbing expeditions that inspired his innovative designs for the sport's equipment, Let My People Go Surfing is the story of a man who brought doing good and having grand adventures into the heart of his business life-a book that will deeply affect entrepreneurs and outdoor enthusiasts alike.
Reasons why you might enjoy this book:
You're already a fan of Patagonia and want to hear their founding story
You're a leader that wants to use your powers for good
You don't believe that businesses can have a true Purpose and live to it, and still be incredibly successful