Book #17: Firms of Endearment
My goal in 2018 is to read 52 books. Here is a list of all the books I've read so far this year. Each book is ranked on a 5-star scale (5 is best).
**** Firms of Endearment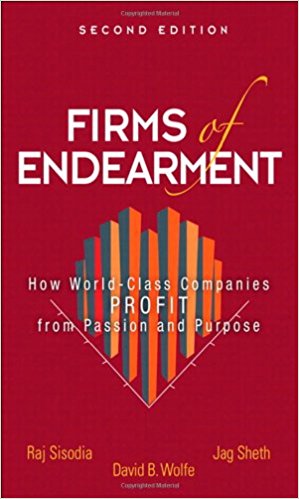 I'm a big believer in companies that are focused on their Purpose above all else. At Dragon Army, our Purpose is to Inspire Happiness, and that singular mission guides everything we do. Firms of Endearment breaks down similar companies that are doing good while doing well. I love that.
I'm inspired by other companies that are trying to do good in the world. In this book, they're also described as "humanistic companies" that seek to maximize their value to society as a whole, not just to their shareholders.
Amazon's description:
Today's best companies get it. From retail to finance and industries in between, the organizations who recognize that doing good is good business are becoming the ultimate value creators. They're changing their culture and generating every form of value that matters: emotional, experiential, social, and financial. And they're doing it for all their stakeholders. Not because it's simply politically correct, because it's the only path to long-term competitive advantage.
These are the firms of endearment. Companies people love doing business with, working for and collaborating with as partners. Since the publication of the First Edition, the concept of corporate social responsibility has become embraced as a valid, important, and profitable business model. It is a trend that has transformed the workplace and corporate world. This Second Edition updates the examples, cases, and applications from the original edition, giving readers insight into how this hallmark of the modern organization is practiced today.
Reasons why you might enjoy this book:
You believe, like me, that business should be a force for good in the world
You want to be inspired to grow your business (or your team) to new heights by motivating them against something bigger than simply revenue or profit growth