Book #15: Do the KIND Thing
My goal in 2018 is to read 52 books. Here is a list of all the books I've read so far this year. Each book is ranked on a 5-star scale (5 is best).
**** Do the Kind Thing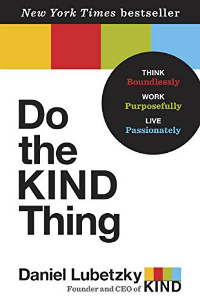 I really enjoyed reading listening to the history of KIND in this autobiographical book. I chose KIND not because I'm obsessed with their products – though I do enjoy them – but because I'm obsessed with the idea that business can be a force for good. This is my focus with Dragon Army, and I want to learn from other entrepreneurs that have had phenomenal success while also striving to make the world a better place.
The story of KIND is your typical, how-did-they-survive-from-that inspirational journey. Daniel's ability to soldier on, with a positive attitude, through seemingly un-winnable situations is nothing short of remarkable. And through it all, he kept true to his vision of using business to change the world for the better.
I find it hard to believe that anyone could read this book and not become a fan of the KIND brand. I sure did.
Amazon's description of Do the KIND Thing:
For the socially conscious, the intellectually curious, or the creative soul comes an inspiring, New York Times bestselling handbook for success in business, life, and the all-important task of building a more compassionate world—by the visionary founder and CEO of KIND Healthy Snacks.
When Daniel Lubetzky started KIND Healthy Snacks in 2004, he aimed to defy the conventional wisdom that snack bars could never be both tasty and healthy, convenient and wholesome. A decade later, the transformative power of the company's "AND" philosophy has resulted in an astonishing record of achievement. KIND has become the fastest-growing purveyor of healthy snacks in the country. Meanwhile, the KIND Movement—the company's social mission to make the world a little kinder—has sparked more than a million good deeds worldwide.
In Do the KIND Thing, Lubetzky shares the revolutionary principles that have shaped KIND's business model and led to its success, while offering an unfiltered and intensely personal look into the mind of a pioneering social entrepreneur. Engaging and inspirational, Do the KIND Thing shows how the power of AND worked wonders for one company—and could empower the next generation of social entrepreneurs to improve their bottom line and change the world.
Reasons why you might enjoy this book:
You're an entrepreneur of any kind and could use some how-to examples and some inspiration
You're an entrepreneur that, aside from building a great company, wants to make the world a better place

through

your business
KIND is a brand you love, and you want to know how it all came together