Book #13: Great by Choice
My goal in 2018 is to read 52 books. Here is a list of all the books I've read so far this year. Each book is ranked on a 5-star scale (5 is best).
***** Great by Choice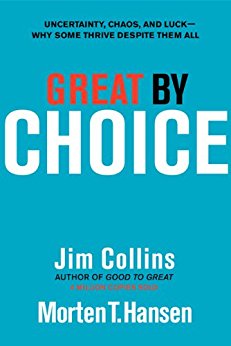 Great by Choice blew me away. I think maybe based on where I am in my entrepreneurship journey – 20+ years and counting – that it hit me at the perfect time. Also, I listened to it on Audible and the person reading it did a great job.
What I gathered from this book above all else is the power of patience. When you want to build a great business, patience seems to be the key that solves every challenge. I expect that I'll read this book several times over the next ten years.
And honestly, when I first tried to read the author's book, Good to Great, which EVERYONE says is incredible, I just couldn't get into it. I felt like it was talking at a level that was too far beyond what I'd ever experience. Concepts that focused on coordinating global teams just didn't seem like something that I could relate to. But Great by Choice, while still dealing with massive, global companies, spoke directly to me.
Amazon's description of Great by Choice:
Ten years after the worldwide bestseller Good to Great, Jim Collins returns with another groundbreaking work, this time to ask: why do some companies thrive in uncertainty, even chaos, and others do not? Based on nine years of research, buttressed by rigorous analysis and infused with engaging stories, Collins and his colleague Morten Hansen enumerate the principles for building a truly great enterprise in unpredictable, tumultuous and fast-moving times. This book is classic Collins: contrarian, data-driven and uplifting.
Reasons why you might enjoy this book:
You want to become the best possible leader in business you can be
You want to build a company that lasts for decades, not years
You're looking for inspiration as you try to create a system for managing your business over the long-term
You loved the author's other books, Good to Great and Built to Last