Book #11: Never Split the Difference
My goal in 2018 is to read 52 books. Here is a list of all the books I've read so far this year. Each book is ranked on a 5-star scale (5 is best).
**** Never Split the Difference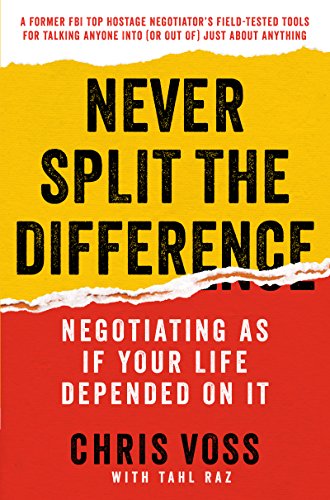 I've always wanted to read a book on negotiating. And soooo many of my friends told me that this book was fantastic that I had to check it out. It did not disappoint.
Written by an FBI hostage negotiator, the book goes back and forth between real-life hostage situations that the author was in, to then using those lessons to help anyone negotiate with….well, anyone. Mr. Voss makes the point that we negotiate with people all the time, we just don't realize it.
I have to admit, the stories of his FBI negotiations were my favorite parts. The thing that held me back from giving this five stars was that I could have used more examples of easy ways to put some of these lessons into practice. Otherwise, its a great read!
Amazon's description of Never Split the Difference:
A former international hostage negotiator for the FBI offers a new, field-tested approach to high-stakes negotiations—whether in the boardroom or at home.
After a stint policing the rough streets of Kansas City, Missouri, Chris Voss joined the FBI, where his career as a hostage negotiator brought him face-to-face with a range of criminals, including bank robbers and terrorists. Reaching the pinnacle of his profession, he became the FBI's lead international kidnapping negotiator. Never Split the Difference takes you inside the world of high-stakes negotiations and into Voss's head, revealing the skills that helped him and his colleagues succeed where it mattered most: saving lives. In this practical guide, he shares the nine effective principles—counterintuitive tactics and strategies—you too can use to become more persuasive in both your professional and personal life.
Life is a series of negotiations you should be prepared for: buying a car, negotiating a salary, buying a home, renegotiating rent, deliberating with your partner. Taking emotional intelligence and intuition to the next level, Never Split the Difference gives you the competitive edge in any discussion.
Reasons why you might enjoy this book:
You want to learn more about how to negotiate with anyone, over anything!
You're curious about how hostage negotiators think…its incredibly interesting
Reasons why you might not enjoy this book:
You think you're the best negotiator in the world (I think there's only one person who believes this)