My goal in 2018 is to read 52 books. Here is a list of all the books I've read so far this year. Each book is ranked on a 5-star scale (5 is best).
**** Everybody Matters: The Extraordinary Power of Caring for Your People Like Family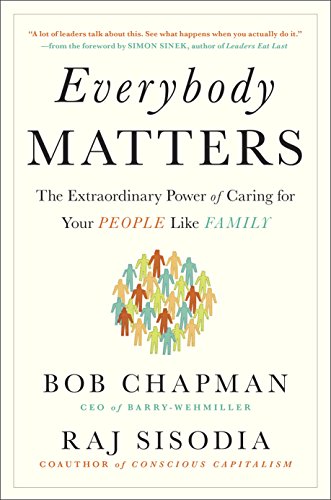 Everybody Matters has been recommended to me dozens of times by people in the "conscious company/business" world. These are leaders within organizations that believe, like I do, that business should be a force of good in the world. And the way to do that is by believing in, and inspiring, your team members.
At Dragon Army our Purpose, something that this book talks about in depth, is to Inspire Happiness. I learned a great deal from this book on how we can be better at moving toward our Purpose as a company.
Amazon's description of Everybody Matters:
"Bob Chapman, CEO of the $1.7 billion manufacturing company Barry-Wehmiller, is on a mission to change the way businesses treat their employees."
Starting in 1997, Bob Chapman and Barry-Wehmiller have pioneered a dramatically different approach to leadership that creates off-the-charts morale, loyalty, creativity, and business performance. The company utterly rejects the idea that employees are simply functions, to be moved around, "managed" with carrots and sticks, or discarded at will. Instead, Barry-Wehmiller manifests the reality that every single person matters, just like in a family. That's not a cliché on a mission statement; it's the bedrock of the company's success.
This book chronicles Chapman's journey to find his true calling, going behind the scenes as his team tackles real-world challenges with caring, empathy, and inspiration. It also provides clear steps to transform your own workplace, whether you lead two people or two hundred thousand. While the Barry-Wehmiller way isn't easy, it is simple. As the authors put it:
"Everyone wants to do better. Trust them. Leaders are everywhere. Find them. People achieve good things, big and small, every day. Celebrate them. Some people wish things were different. Listen to them. Everybody matters. Show them."
Reasons why you might enjoy this book:
You love a good entrepreneurial story
You want to be inspired to do more good in the world
You are striving to build a company that has meaning
Reasons why you might not enjoy this book:
You think business is business, and to heck with all this touchy-feely nonsense