Book #4: The Five Temptations of a CEO
My goal in 2018 is to read 52 books. Here is a list of all the books I've read so far this year. Each book is ranked on a 5-star scale (5 is best).
**** The Five Temptations of a CEO (Audible)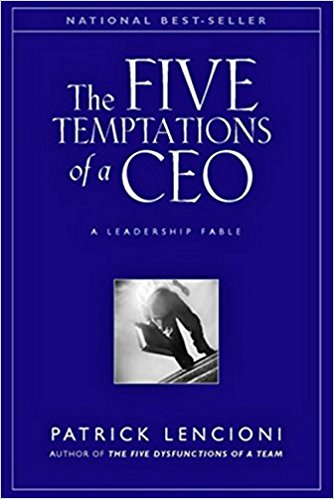 Patrick Lencioni has a way of breaking down complex business and leadership problems into simple, yet powerful, self-help action steps. I believe at this point I've read all of Lencioni's books, with The Five Dysfunctions of a Team being my favorite.
This particular book is very, very short. Like, 166 large font pages short. And its a bit hokey, as some of his fable-style books can be. But it drills home incredibly important leadership lessons that any leader will recognize in themselves. I find that in this book, Lencioni drives home some important leadership concepts that are often overlooked.
If you're going to read this one, and you sometimes listen to audio books, I'd highly recommend listening to this one on Audible. The person reading it is fantastic.
Amazon's description of The Five Temptations of a CEO:
Highly sought-after management consultant Patrick Lencioni deftly tells the tale of a young CEO who, facing his first annual board review, knows he is failing, but doesn't know why. Refreshingly original and utterly compelling, this razor-sharp novelette plus self-assessment (written to be read in one sitting) serves as a timeless and potent reminder that success as a leader can come down to practicing a few simple behaviors? Behaviors that are painfully difficult for each of us to master. Any executive can learn how to recognize the mistakes that leaders can make and how to avoid them. 
Reasons why you might enjoy this book:
You're a business leader with a bit of humility
You like to challenge yourself with new ideas for self-improvement
You're looking for an easy to read, fast-paced business book
Reasons why you might not enjoy this book:
You aren't a leader in a business
You're a perfect leader and to hell with self-reflection
You've always hated fables ever since that damn tortoise beat the hare