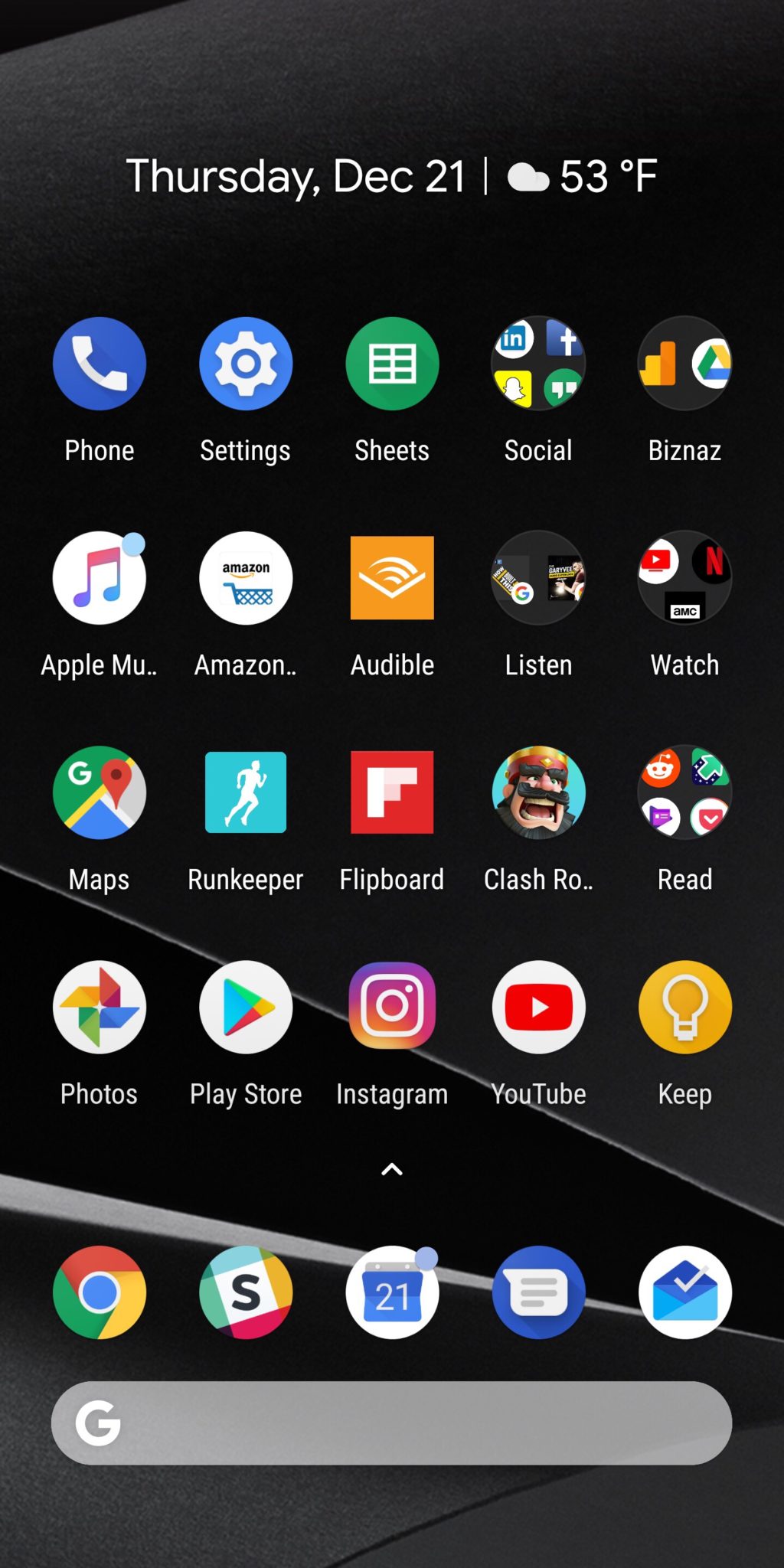 I'm always fascinated by what apps my friends are using on their phones. Perhaps its because I run a mobile innovation company (Dragon Army), but the reality is that I'm just an app junky :)
Before I start, my homescreen comes from the Pixel 2, in my opinion the best Android phone on the market. I've tried the Samsungs and this device is simply rock solid and full of great features.
In order to spur you to share your homescreen and favorite apps, I thought I'd share what my homescreen looks like and what apps I use the most.
First, you'll notice my staple apps on the bottom. Those include (left to right):
Chrome – my browser of choice on all devices
Slack – my company runs on Slack
Google Calendar – the best calendar app available
SMS app
Google Inbox – my favorite mobile email app, still trying to decide if its better than straight Gmail on my Mac
I think its interesting to note that I don't even have the Phone app as one of my 5 most used apps. It's way up on the top left.
Notable apps on my homescreen:
Google Sheets – if my company runs on Slack, then Google Drive (Sheets and Docs) is the infrastructure. I keep the Google Sheets app on my homescreen because I access it constantly to check on our numbers.
Flipboard – still my favorite news app
Clash Royale – the only mobile game I've played this year, and I'm probably going on two years with it (or however long its been out).
Runkeeper – my running app of choice
Google Keep – my note-taking app. I moved away from Evernote probably a year ago.
Instagram – the social network app I use the most
YouTube – I watch/listen to YouTube videos ALL THE TIME. I pay for the non-ads version, not because of the ads, but because I can play it in the background. Which means I can listen to videos while driving. YouTube has taken the place of podcasts for me in many ways.
Amazon app – Yes, the Amazon app is on my homescreen. I'm not ashamed to admit it. Well, maybe a little.
Please share your homescreen and favorite apps!