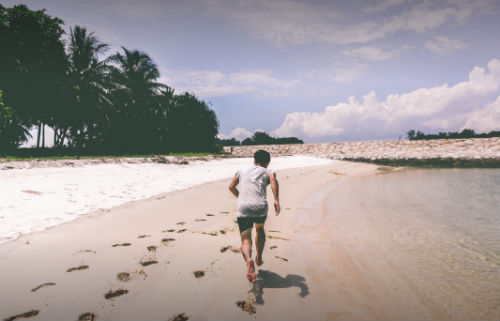 I did it again.
Honestly, I had every intention of running this morning. I drank a lot of water yesterday (its hot in Atlanta, even at 6am.) I set the alarm, checked the weather, and made sure my calendar didn't have any early morning meetings. Everything was lined up.
I even woke up a few minutes before my alarm. I went downstairs and had a glass of water. Bang, let's do this!
And then… I spent the next 15 minutes justifying why I could just run tomorrow morning, its no big deal, besides I have a lot of work to do and getting ahead of it this morning would be the best decision.
Yeah, right.
Like you, I'm a master at convincing myself that the lazy way is the right answer. I dominate myself in early morning negotiations like nobody's business.
What I failed to do in this case was, immediately upon getting up, I should have put on my running clothes. Because there's nothing more pathetic than getting up early, putting on running clothes, lacing up your running shoes (Mizuno of course) and then sitting on the couch and not running. Even I can't out-negotiate myself into that one.
The point: Sometimes you just have to put on your running clothes.
I need to remember this, particularly when I want to do something that isn't "mission critical". Like writing my book. I go through periods where I make great progress. And then I go through times, like now, where I struggle to have the will power to just sit down and write. But if I were to just open up Microsoft Word (the equivalent to putting on my running clothes,) I'm sure I'd start writing.
Perhaps, like me, this trick of putting on your running clothes will help you overcome those important tasks that you need to do, but don't have to do.
And here's to hoping that I'm not such a great negotiator that I can talk myself into the many benefits of doing work while wearing my running clothes ;)