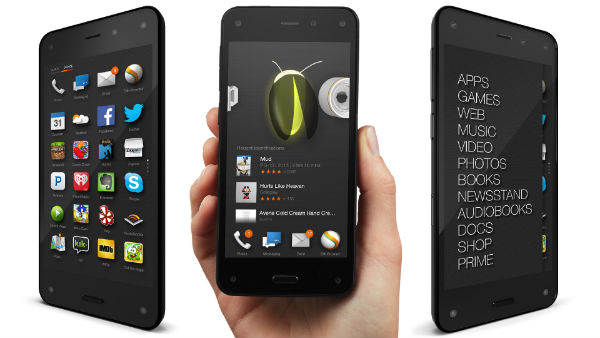 This week Amazon introduced the Amazon Fire phone. It was only a matter of time before Amazon entered the phone market and based on what I saw this week, they came to play. It's at par or better than the current phones in the market in all the major categories (read more here), but here are six reasons you might want to consider this phone:
1. It's hooked directly to your Amazon and Amazon Prime accounts – As someone that loves his Nexus 5 Android phone mostly because of how connected it is to my Google accounts, I can see the same benefits coming from using the Amazon Fire. If there is a second "service" I use after Google, its likely Amazon. From buying most of my things through their e-commerce site, to using their cloud storage, to Amazon Prime and everything awesome that comes with it, I can see the benefits of directly linking to Amazon's services.
2. Firefly – This new technology gives you the ability to use your phone's camera to identify objects in real life and then, of course, buy them. Let your camera scan over a book and up will pop information about that book and how to buy it on the spot. Same for advertisements, movie billboards, etc. If you see a sign on the train that has a phone number on it, the phone will see the phone number and let you dial it. Reportedly the device can already recognize 100 million objects.
3. Unlimited, free photo cloud storage – 'nuff said.
4. Dynamic perspective – Amazon added some really interesting functionality with their phone called, "dynamic perspective". The phone is equipped with four front-facing cameras that track where your head is while you're looking at the phone and then changes the perspective of the screen accordingly. Here is a good video explaining why this is incredibly cool.
5. Best in class stereo speakers – This one may be more important to me than others, but I am constantly wanting my Nexus 5 to have better speakers. For instance, I listen to podcasts while doing the dishes or getting ready in the morning and better speakers would be really helpful. While I obviously have yet to test out the speakers on this phone, the reports say they're better than anything else out there.
6. It's only $199 with a two-year AT&T agreement, plus you get a year free of Amazon Prime ($99) – That's pretty competitive in the market for such an amazing phone, and with Amazon Prime kicked in for free for a year, it essentially makes the phone $99. That's crazy.