Running a mobile game studio (Dragon Army) requires me to play a lot of mobile games. I know, sucks right? :) Last week I wrote about a mobile game I love, Duet Game, and this week I thought I'd write about a few games I'm testing out. I haven't fallen in love with any of these yet, but they're worth taking a look at.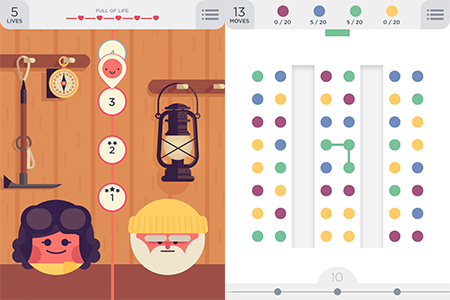 TwoDots is essentially the sequel to Dots, the uber-popular iOS game. Like its predecessor, its only available on iOS. I love these very casual, one-hand, play for a few minutes type of games. This one I found to be more difficult than Candy Crush as I progressed and since I was unwilling to lay down any cash within the game, I stopped playing after about 18 levels. Definitely worth a try if you're fan of these types of games (ala Candy Crush).

Boom Beach (iOS only) is also a bit of a sequel, produced by Supercell, makers of the hit game Clash of Clans. To be honest, I've never been able to get into these types of games where you're essentially resource managing over a long period of time. Like Farmville, you are mining and planning resources in order to achieve an activity, but the resourcing takes time and – if you're willing to pay money – you can speed it up. I probably played Boom Beach a total of 2 hours, but it took me over a week to play those two hours because I constantly had to wait for my resources to be "mined". If you like these types of games, this one is probably going to be great for you as its really well thought out, beautiful to play and a unique angle as you're playing via tropical islands.
And Monument Valley (iOS and Android) is an entirely different mobile gaming experience. It's one of those games that you have to play in order to understand. The music experience is phenomenal and the design is amazing. Check out the video below and you'll see what I mean:
Each of these games caught my attention for a few hours but ultimately weren't able to stay with me much past that. But often times that's the lifetime of a mobile game and many of my friends LOVE these games, so they are worth checking out.