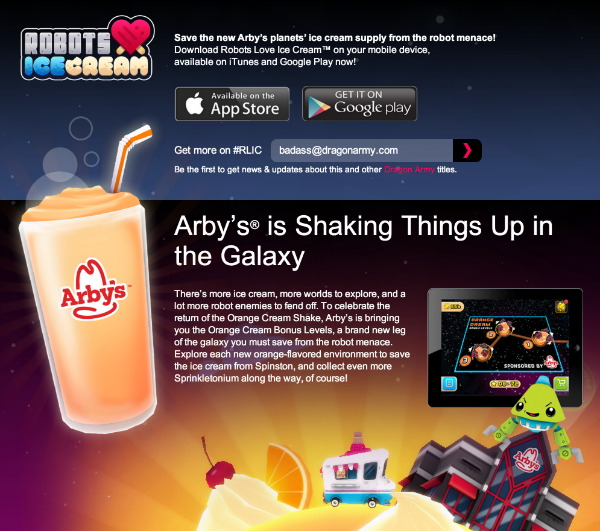 Having spent the last 15 years working with brands (Coke, Home Depot, UPS, etc) on their digital marketing efforts, it was only natural for me to explore ways to work with brands at Dragon Army. So Ryan and I started thinking about a unique brand integration with Robots Love Ice Cream – now available on Android btw! – and we approached Arby's to see if they were interested.
Fast-forward four months and we're now live with a huge Arby's promotion, including three new levels in Robots Love Ice Cream that highlight the new Arby's Orange Cream shake. Our hope was to strike a nice balance between providing the player with a meaningful upgrade to the game while also giving Arby's brand exposure and awareness for their new product.
Our goal will be to see if we can continue to find innovative and relevant ways to integrate brands into our games, but its a secondary goal as we're most focused on creating great games for our customers.
Here's a shot of Robots Love Ice Cream being promoted in Arby's restaurants!