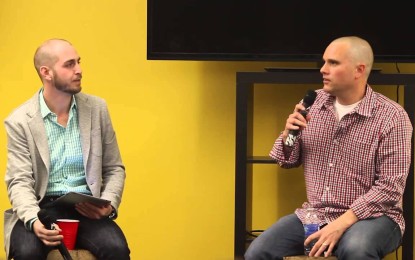 I was honored a few weeks back to be asked to speak at Startup Grind Atlanta. Chris hosts a great fireside chat and we had a lot of fun batting stories around.
The entirety of the chat is at the bottom of this post, but in case you want the quick version, it went like this:
Spunlogic
1998 – 1999: Fun times (carefree, exploring our passion for web design)
1999 – 2001: Hard times (credit card debt rising, no real plan for growth)
2001 – 2003: Focused times (starting to figure out how to build a business)
2003 – 2008: Fast times (doubled every year for 5 years)
Engauge
2008 March-April: Amazing times (sold the company)
2008 May – 2011: Suck times (economy tanked, unhappy, floundering from role-to-role, should have left to start my own company)
2011 – 2013: Focused times (promoted to President, re-energized, worked hard to grow the company)
2013 August: Relief times (sold the company)
Dragon Army
2013 September – present day: Fun and Focused times (learning new industry, working with passionate, inspired crew)
Yep, that's about the gist of the last 16 years for me. Ups and downs, good times and tough. I'm incredibly blessed that it has lead me hanging out with these people all day.