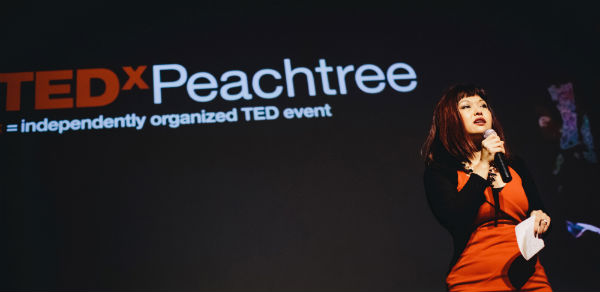 This is the ninth installment of my "5 Questions for a CEO" series. The list so far:
I've known Jacqui Chew for a long time and she's easily one of the most dynamic people killing it in Atlanta today. She's the CEO of iFusion Marketing and is a neighbor of mine in the Atlanta Tech Village.
What is iFusion Marketing and why is it going to change the world?
iFusion Marketing started out as a fractional CMO consultancy providing strategy development and marketing plan development services in 2006 in response to a need in the startup community. We have since added services that can be loosely be categorized into lead-to-revenue optimization, content production and social PR to help clients with their challenges.
Today, iFusion works with both growth stage startups and companies whose products or business models could change the world in the technology, ecommerce and technology-related sectors. A good way to characterize our role is that of the trusted behind-the-scenes sidekick that delivers against present challenges. My job as the CEO is to be more forward looking and keep up with trends so that we may help clients proactively manage future challenges that may not have fully taken form.
How would you describe your leadership style? What's the biggest thing you're working on improving?
My job as CEO is to create an environment that attracts well-qualified team members whose priorities align with those of the firm. Having the right team members form the basis for the type of culture that fosters good work product: respect, collaboration, camaraderie, levity. I also practice the mantra of "put your employees in a position to succeed" and that means understanding their strengths and weaknesses and giving them the tools to be successful.
Given that we are often testing new tools, products, etc., the team knows that mistakes are tolerated and are signs of wanting to improve on the status quo. The words "but it's always been done this way" are rarely heard in internal team meetings. But everyone is also keenly aware not to make the same mistake twice.
I am as flawed as the next business owner. I just recently mastered the art of saying "no."
I'm not sure I've run into anyone that has more things going on at once than you. How do you stay organized and productive?
I have an incredibly supportive spouse and drama-free personal life. I got lucky with the former but the latter is something that everyone can accomplish with a little emotional house-keeping. And while it may seem as if running a marketing consultancy, leading TEDxPeachtree, organizing The Art of the Launch marketing hackathon, speaking engagements and paying  it forward through mentor hours at Four Athens and the Atlanta Tech Village seem very disparate, there is one common thread: intelligent, progressive thinkers who, in varying degrees, want to change their reality/world abound in each. Working with folks like that doesn't always feel like work!
I would argue that being involved in one helps me be even more impactful in problem-solving for another.  Here are a few tools that help me stay organized:
ScheduleOnce to schedule meetings
Feedly, Buffer + Hootsuite for news consumption and social share
Annotary for research
AnyDo for my to do list
Nimble – giving this a try for managing relationships
An incredibly organized book-keeper also helps tremendously
Describe your morning routine.
Every day is a new opportunity to make an impact. Sounds incredibly clichéd but I believe and live it every day. An illness incapacitated me for 15 months or so a few years ago and since my recovery, I have felt as if I was given another chance to do something more and I've not looked back since.
You work with (and know) a lot of startups. What's the biggest mistake you see them make time and time again?
It never ceases to amaze me when I  hear a founder say "yes, but we're different" or "we don't have competitors." On a more macro level, choosing a co-founder is probably one of the most crucial decisions a startup founder can make. I wrote about this and other common mistakes startups make here.
Bonus: You're both a female and originally from Singapore. What impact does that have (positive or negative) on being a CEO in Atlanta?
Despite the great press and shiny skyscapers, Singapore today is very much the same as the Singapore I left 27 years ago. Social and cultural values make entrepreneurial failure a huge stigma. The government of Singapore is trying to overcome this with accelerators, funding and education but it is, nonetheless, an uphill battle. I've been very blessed to have incredibly progressive thinking parents who wanted me to have the opportunities afforded by education and who were enlightened enough to send their daughter 10,000 miles away for the access. My mother was a pioneer among her peers and she passed on her entrepreneurial DNA to me. So after graduation, I decided to stay to pursue the American Dream.
As for being a legal alien doing business in Atlanta, I like to think that the cultural values of my birth country – integrity, relationships, loyalty – mesh very well with the way business is done over here. As for being a female CEO, that's a little more complicated. I've had several mentors while in Atlanta; both ironically male. I also keenly recognize the challenges faced by my peers in other sectors. My current thinking on this is to be the best I can be in the hats I choose to wear. I have little influence over how those in my business and social circles perceive me but 100 percent control over how I respond to situations and personalities. So I work each day not to disappoint myself and to pay it forward to men and women who want something better for themselves.