Yesterday was a really fun day for me and the Dragon Army team. I set up a field trip for us to go and get a walking tour of Martin Luther King, Jr.'s childhood home and neighborhood. We spent time in the home he was raised in until he was 12, hearing stories about how he did things that all young boys do but that you wouldn't think of the great MLK doing (like jumping out of the second story window, acting as Superman)! We also spent time in the historic Ebenezer Baptist Church where his family preached and where MLK, Jr.'s mother, Alberta King, was shot and murdered.
Our tour guide was an amazing guy, Nasir Muhammad, who owns a small business called Black Mecca of the South Tours. He's a historian and an amazing guy in his own right, and I suggest anyone that wants to consider this amazing experience for your family or company to reach out to him. His number is 678-663-0831 and his email is blackmeccatours AT yahoo DOT com.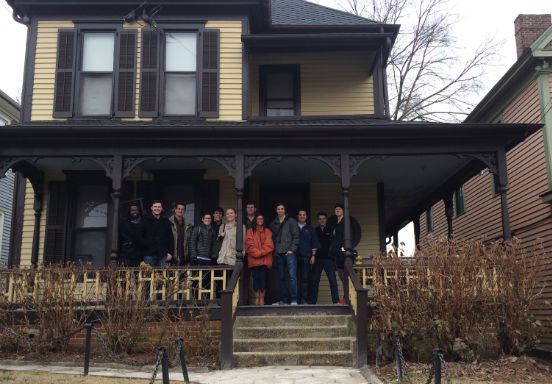 The team in front of the King house where MLK, Jr. grew up until age 12.