I love Zoo Atlanta and am currently on the marketing advisory council where I meet quarterly to help the marketing team plan their strategy. It's an honor to be included and probably my favorite aspect of being on that council has been the opportunity to become friends with Raymond King, the Zoo's CEO. Raymond and I are also both on the Metro Atlanta Chamber of Commerce Board and at the last meeting I was asking him about his process for staying productive and thought, I need to blog about this!
But before I do, I have to say if you haven't been to the Zoo recently, please go! It's a great time and not just for kids. Or you can join me at the awesome annual event, the Beastly Feast on May 3rd!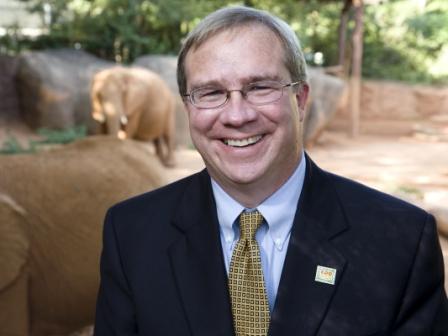 Raymond King, CEO of Zoo Atlanta
Give a brief description of your responsibilities as the head of Zoo Atlanta.
Like any CEO, I am ultimately responsible for all facets of what we do.  We operate as if we are an $18 million "business" with all the inherent components but as a non-profit operate under a mission of conservation, education, and research.   Given that I have no animal background and have a very strong team, I am able to focus my time and energy on stress points in our organization where I have personal strengths:  strategy, sales, innovation, community relations, and fundraising.
Obviously you have to wear a ton of hats with your job.  What's your philosophy on time management?
My #1 priority in life is my family and to be successful in both that and career mandates excellent time management.  Thus, I am constantly managing my calendar and priorities with the help of technology and delegation, thinking of time as something you "invest", not "spend"; and never get back.
What tools or technology do you use to be productive?
First and foremost, I go through an extensive, annual "life planning" process where I reevaluate my priorities and then set goals/habits/tactics for each area of my life in Evernote (which I review every weekend).  I then use the following apps on my I-Phone and I-Pad to manage my day-to-day:  Errands (task mgt.), My Actions (f/k/a IRUNURUN – goal/habit mgt.), and A2Z (contact management).  The last is critical because relationships have always been the key to my success and I have over 6,000 "contacts" to "manage".  Apple contact management has a serious void in the lack of ability to categorize and slice/dice "contacts" which A2Z fills.
Most of the high performers I know have a very solid morning routine.  What is yours?
I have always been a "morning person" and consider the first few hours of my day to be the most critical as it is when I am able to focus on what I want/need to do.  Starting at 4:30/5:00, I begin with a brief prayer, a couple daily "inspirations", and The Maxwell Daily Reader by John Maxwell (leadership insights).  I then tackle 1-3 projects that require focus and a clear head, realizing the morning is when I do my best work.  Only than do I let myself review email, the WSJ, AJC, and blogs/literature on topics I am trying to continuously educate myself on: leadership, entrepreneurship, social media, marketing, and technology.  I then almost always have a breakfast meeting, operating under the philosophy of "never eat alone" as meals are prime time for relationship cultivation.
What is your favorite animal at the Zoo?
This changes regularly, depending on what we have going on.  Typically when we have a new baby, that animal becomes my favorite as I get reminded of their terrible status in the wild and the great work we are doing to advance conservation.  In fact, this is a historic time to visit the Zoo as there has probably never been such a large number of signature animal births:  the first ever surviving twin panda cubs in U.S. history, Zoo Atlanta's first ever rhino calf, 4 lion cubs, 2 gorilla babies, and 2 orangutan babies – all now on exhibit, weather permitting.