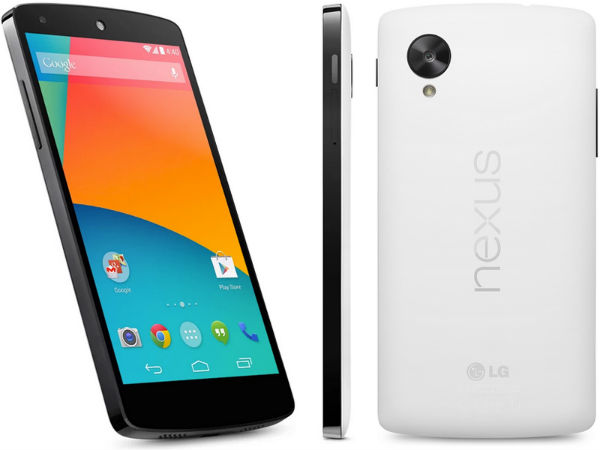 I have the white Nexus 5, 32 GB.
The Nexus 5 is the best phone I've ever had. Admittedly, I was on a six year run as a tried and true Apple Fanboy, and my initial journey into the world of Android about a year ago wasn't exactly a smooth one. I started with the first Nexus and enjoyed it, but it was very under-powered compared to the iPhone at the time and the camera was unusable. Then I switched to the Samsung Galaxy S4 and while I initially liked it, over time it became less reliable and I'd routinely have 20 minutes where I couldn't make a phone call while the Contacts app crashed and crashed.
Then about a month ago I bough the Google Edition Nexus 5. This is the first Android phone I've used that feels like an iPhone when I use it. It's extremely fast and responsive and has yet to crash once. Right now I believe the Nexus 5 and the iPhone 5S are the two best phones on the market, so…
Here are 13 reasons that I believe the Nexus 5 is a better phone than the iPhone 5S:
1. The full integration of the Google ecosystem, because the Nexus 5 is as pure a Google phone as you can buy, is amazing. I'm a super-user of Google services and to have them fully baked into this OS is fantastic. It's something you have to experience to really get, but if you're a Google user you'll love this phone.
2. The always present "back" button. Essentially no matter what app you are using, you have a back button at the bottom of your phone to go back to the previous page. iOS needs to embrace this. As soon as you get used to it, you can't imagine not having it.
3. Multi-tasking is far easier than on the iPhone and it's true multi-tasking (like, programs can actually run in the background seamlessly). Android has always been ahead of the iPhone in this category.
4. The screen size blows the iPhone 5S away. I'm sure the next iteration of iPhones will have these larger screens, but until they do I can't even consider going back to the iPhone.
5. The ability to use any app to perform any service is really the way things should be. For example, if you click on an address on an Android device, you get the option to use ANY mapping app that you've put on the phone. With the iPhone 5S, you're limited to what Apple wants you to use, regardless of what else you have on the phone.
6. Widgets! Having widgets running on the phone's desktop screens is great. For instance, I have a few Google Analytic widgets that show me how much traffic this blog is getting on a daily and monthly basis. Almost anything you can think of can be a widget.
7. Apps that integrate with the OS directly provide the ability to tweak your phone to your personal preferences. For instance, the Shush! and SkipLock apps allow me to do things that make my phone much more useful on a day to day basis.
8. The price. A 32 GB unlocked and contract free iPhone 5S is $749. A 32 GB unlocked and contract free Nexus 5 is $399. That's a considerable advantage for the Nexus 5.
9. Wireless charging. I bought a charging pad for $30 that I can just set my Nexus 5 on and it starts charging. Super convenient and something the iPhone doesn't yet allow.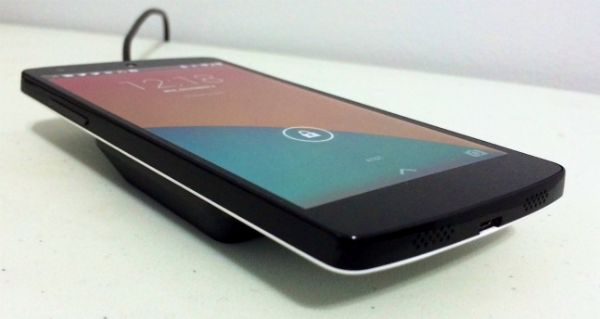 Wireless charging is great on the Nexus 5.
10. Google Now. The Nexus 5 has Google Now one swipe left of the homescreen. If you aren't familiar with Google Now, its sort of like a concierge for your phone. It will tell you when you should leave for your next meeting, update you on things you've recently searched for, tell you what's going on around you that you might be interested, let you know when that package you ordered will be delivered, etc. And it learns as you use it. For instance, I've never put an event on my calendar for going to church, but now on Sunday mornings it tells me when I need to leave to get to church. It learned when I usually get there (9:00am to get the kids to choir practice) and where the church is located, and alerts me at the appropriate time to leave based on traffic. That's cool.
11. Google voice translation. It's just better than Siri at the moment. More accurate and can do more things.
12. Gmail app. If you're a gmail user, then the Gmail app on the Nexus 5 is going to be a much better experience than any other mail program you're using on the iPhone. Of course it should be, Google controls both, but to have the full power of Gmail on my phone is awesome.
13. Notifications. I prefer the way that Android handles notifications and KitKat 4.4 (the latest Android OS) just gets it right. I was never much of a notifications user until I got the Nexus 5. Grab an iPhone 5S and pull down from the top, then do the same thing on the Nexus 5 and you'll see what I mean.