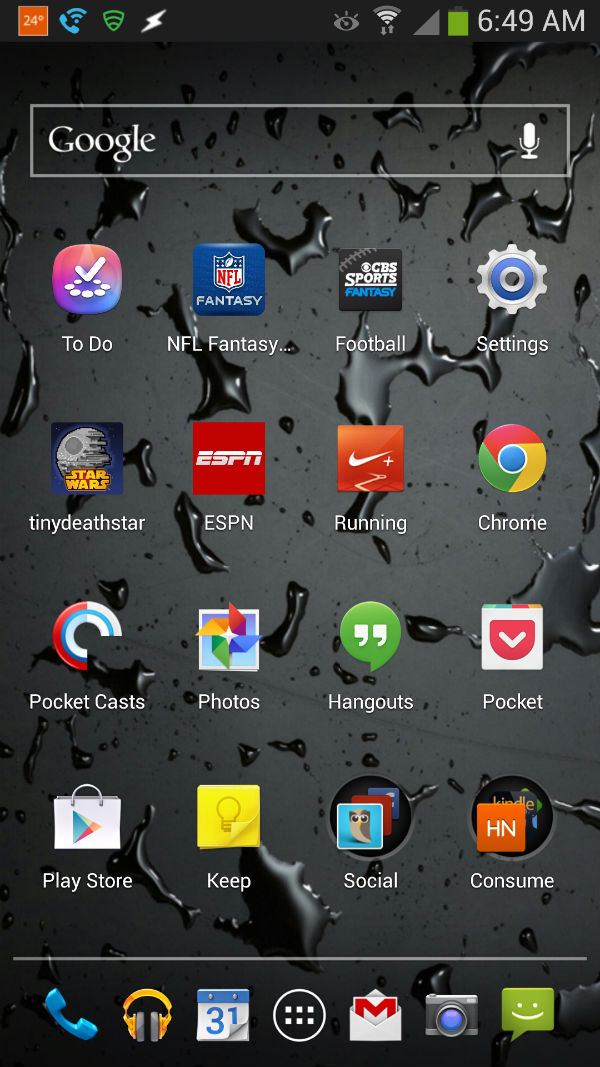 I'm always curious what apps or folders are on people's homescreens and every so often I like to share mine to get feedback on what I'm missing. Now that I'm in the mobile game business, homescreen real estate is even more important to me.
What's on my Samsung S4 homescreen today?
"To Do" – This is a Tasker function that pulls up an email window addressed to me with the subject: To Do. I use email as my to do currently so whenever I think of something I need to do or remember, I use that function and fire off an email to myself.
NFL and CBS Fantasy Football apps – These only take up space on my homescreen during the fantasy football season of course.
Settings – I seem to have to jump into Settings quite a bit on this phone so I like to be able to get to it quickly.
Tiny Death Star – I like to keep the game I'm currently playing on my homescreen, especially now that I run a mobile game studio. I've just started this one and so far its pretty fun. To me its a simplified Sims experience.
ESPN – Link to the espn.com website. I visit this multiple times a day.
Nike Running – I use this to track my runs. Yes, I run sometimes :)
Chrome – I've kept this on my homepage because I don't always like to go into the Google Now feature which happens when you click on the big search box at the top. Chrome is my browser of choice on all devices.
Pocket Casts – My favorite Android podcast app.
Google Photos – The upgraded Google photo app is terrific.
Google Hangouts – My IM (and soon to be SMS) app of choice.
Pocket – This is what I use to store the articles or videos I want to read/watch later.
Google Play Store – The Apple App Store equivalent. I like to have quick access to it.
Google Keep – I use Keep daily to keep track of short term notes. I don't want to clutter Evernote with short term things. For instance, if I am going to the grocery store I might jot notes in Keep and then delete it after. More on that.
Social folder – This folder contains my social media apps: Hootsuite, Path, Facebook, Facebook Messenger, WordPress and Instagram.
Consume folder – This folder contains my "news" and content apps: HackerNews, Amazon Kindle, Feedly, Flipboard, Drippler and YouTube.
The bottom bar of my phone contains the normal apps, but also Google Play Music. I subscribe to Google Play Music the same way you'd use Spotify.
What did I miss? What's on your homescreen?