Yesterday was a great day at Dragon Army. We submitted our first app to the Apple App Store and celebrated with champagne (thanks Adam for the gift, it is now a piece of Dragon Army lore!). We aren't sharing what it is yet, but if you join our beta list you'll be one of the first to know!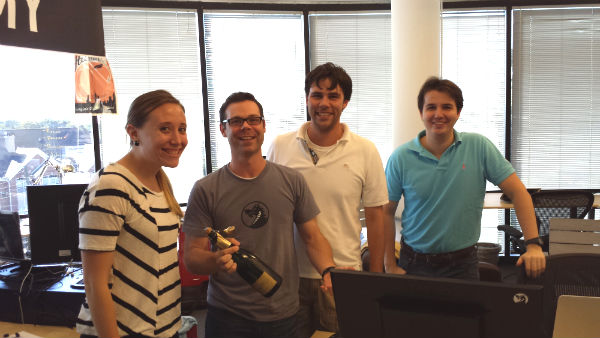 (Amanda, Ryan, Richard and Justin…and me behind the camera – the current army – celebrating our first app submission)
And we launched our Facebook page, where we'll be sharing news about the company, updates about our apps and giveaways for Dragon Army merch. Like us so you're in the loop!
We also had the amazingly talented artist producing the visuals for our second app do an illustration in the hallway at Atlanta Tech Village. If you can guess what that app will be from the drawing, we'll be fairly impressed ;)
This startup thing is fun :)