What makes a great startup? It's an important question to ask and very relevant to me at this moment both because I've started a new company recently and because I sit in middle of Atlanta Tech Village, where over 100 startups have set up camp already. But being in this space for the past month and a half, and spending more time with our co-founder, David Cummings, I've learned been reminded of what really makes a great startup.
You might think its the BIG IDEA that makes a great startup. Not really, ideas are a dime a dozen today. Open up Kickstarter or Indiegogo and you'll see there is no shortage of great ideas out there.
You might think its the leader/CEO/founder(s). Sure, that's important but at the end of the day its not the single element that every successful startup needs to have.
You might think its the state of the market. While that's certainly important and something that I've personally benefited from in the past (selling Spunlogic in March of 2008 was nothing short of a timing miracle), its not required.
You might think its the ability to raise capital. It's very important to have the ability to keep your startup afloat, but raising capital is always required. This time I've raised funding but the first time it was personal credit cards, taking no salary and living in my parents' basement. Not having funding isn't always a deal-breaker.
No, the single most important characteristic that a startup needs to have to be great is the ability to execute. The best idea in the world will fail with poor execution. A CEO that can inspire but fails to lead a team to execute will not be successful. Starting a .com in 2000 was only a successful venture for those that knew how to execute.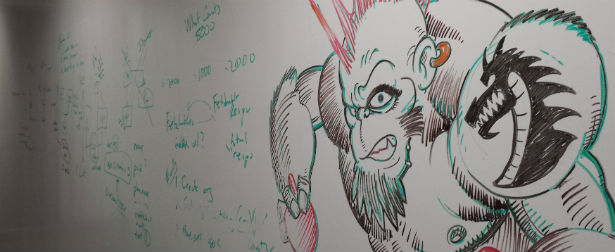 (This is a shot of one of the hallways at Atlanta Tech Village. Dan the Man drew the bad&ss gorilla playing ping-pong for us, but the rest are random notes and plans for startups in the Village. Its all public and no one is worried about it.)
I've probably gone on a few dozen tours of the Village, both with David and guests and on my own with guests. One of the things that often startles visitors is the brainstorming that goes on in the hallways and is left on the walls (via Idea Paint). They ask, "Why would these companies leave their proprietary information and plans up on the walls for everyone to see?"
The first time this was asked, David was quick to point out that there is very little information or processes that any company today is creating that you couldn't quickly find from a Google search. "Today, its all about the execution. These startups know that and aren't worried about people stealing their ideas because they're going to outwork and out-execute their competitors."
Spend half a day around the Village and you'll see that "execution" is a core tenant of these companies. I've never worked with more leaders that are focused on results and execution in my life.