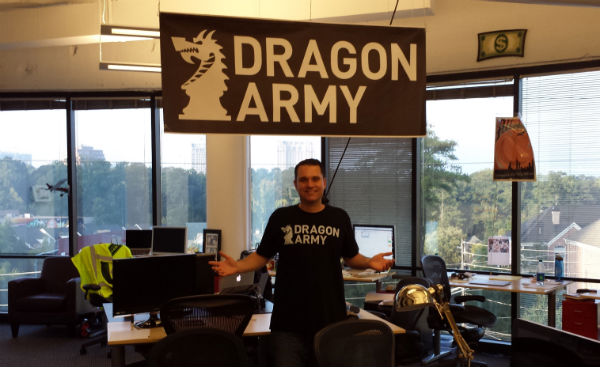 It was always important to Ryan and I that we be proud of the brand of whatever company we were going to create. The name needed to mean something to us personally and the "look", the actually brand, needed to convey the right message.
Dragon Army, if you weren't aware, is a reference to a team in the phenomenal book, Ender's Game. Without giving away too much – because you're going to read it or see it when it comes to theaters on November 1st, right? – the Dragon Army team is a group of kids that are fighting against the odds. The deck is always stacked against them and in order to win they must think outside the box and use intellect and innovation over brute strength and experience. They have to throw out what has worked in the past and use nimbleness and cunning to succeed. As we embark on this new journey of building mobile games and apps for consumers, we're well aware that we will need to create some magic in order to break through the overly saturated market. It should will be the biggest challenge of my career.
So the name, which Ryan came up with, was perfect. It hits all the right notes, plus it just sounds cool :) But we needed a brand.
Enter my very good friend Moira and her phenomenal company, Modo Modo Agency. You might recall that I blogged about Moira's recent book, AdVenture, which is a must read for any entrepreneur. I bought everyone on the Dragon Army team a copy and they devoured it. Her agency is so freaking cool that they were the logical choice to create the brand for Dragon Army.
We sat with Moira and her team and told them about what we were looking to do with Dragon Army. Moira already knew me well so I think hitting the mark (pun intended) was fairly easy for her, but I can't believe how much I love the logo. It strikes the right balance of badass + strategic + gaming + team/army.
We have a lot of work to do, but I am loving our start with this brand. Now its up to us to live up to it.