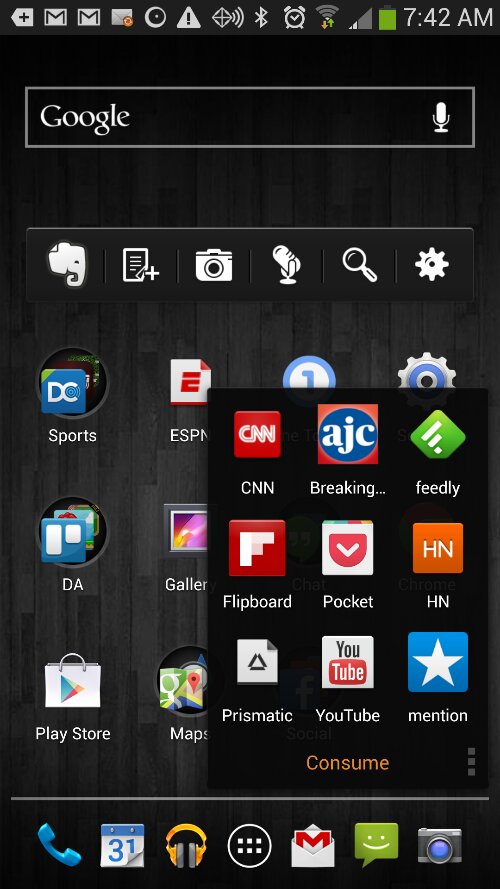 I really love reading and watching content on the Galaxy S4. The screen size is just terrific. And since I'm always interested in what tools people use to do this, I thought I'd share my list. Above is a screenshot of the folder on my homescreen that I call "Consume".
CNN and AJC – you know what those are but truth be told they are probably the least used of any of these.
Feedly – Feedly is the tool I use to "subscribe" to content. If I find a blogger or publication that I want to subscribe to, I add it to Feedly so I can keep up with it. I still don't like it as much as the old Google Reader or the Reeder app, but Reader (with an "a") is dead and Reeder (with an "e") isn't available for Android yet, so I've put all my subscription-based content into Feedly.
Flipboard – Flipboard is one of my "content discovery" apps. Unlike Feedly, where I pick and choose exactly the places I want to get content from, with Flipboard you primarily choose a category and then you're served up content that Flipboard (or a 3rd party) aggregates. For me, Flipboard is a terrific tool to dive into a category and read relevant content. And the visual design of Flipboard is terrific. Here's a shot of what I have on my Flipboard (ok, its a year old but still pretty close).
Pocket – Pocket is the app I use to store content I want to read later. When I'm scanning Feedly or Flipboard or Hacker News or ESPN and I don't have time to read something at that moment, I store it in Pocket. This is how easy it is to get content into Pocket. In the past I used Instapaper for this purpose but I switched to Pocket recently and prefer the user experience over Instapaper. It's a fantastic iPad tool when you want to kick back and read some long-form content.
Hacker News (HN) – Hacker News is a terrific tool for technology articles and news. I love it. Even though 50% of the content is far more technical than I can understand, it has terrific articles that are ranked by a crowdsourced aspect.
Prismatic – Prismatic is sort of a Feedly + Flipboard mix. You subscribe to content and get your own "digital magazine" experience. There is no app yet (come on guys!) but the web version is really attractive. The mobile web version is "ok" but its really meant for a full web experience. Here is a screenshot of my Prismatic: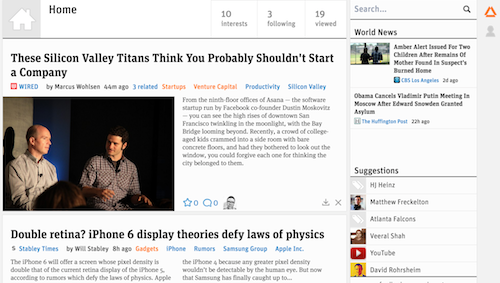 Youtube – I have recently been adding a lot of "Watch Later" content to Youtube so that I can listen to videos in the car or when I'm on a run. On Android, or at least the S4, your Watch Later content automatically downloads so you can watch it offline. But this only seems to work sometimes so its not reliable. I've recently been using tools on the web that will pull Youtube content down onto your computer in whatever form you want. I then take those mp3 files and load them onto my S4 through the tool AirDroid (terrific tool) and then I can listen without fail whenever I want.
Mention – Mention is a Google Alerts type of tool. It alerts you anytime a word or phrase you pre-select is mentioned on the Internet. So if you wanted to keep up with any news about your company, Mention would be a great tool for that. I've only recently started using this so the verdict is still out.
The missing apps in this folder are Kindle and Audible and ESPN. I've talked about how I love using the Kindle and Audible in sync to both listen to and read the same book. I have the Amazon widget on my phone so I can quickly jump into a book, or download an Amazon app, or buy something, etc, so that's how I start using the Kindle. I also have an Audible widget I use so no need for an app in this folder either. With ESPN, for some reason I prefer to have a hotlink right on the homescreen since I check it constantly. But when I need more homescreen real estate, I'll move it in this folder.
What else?  What apps are you using on your phone to consume content?