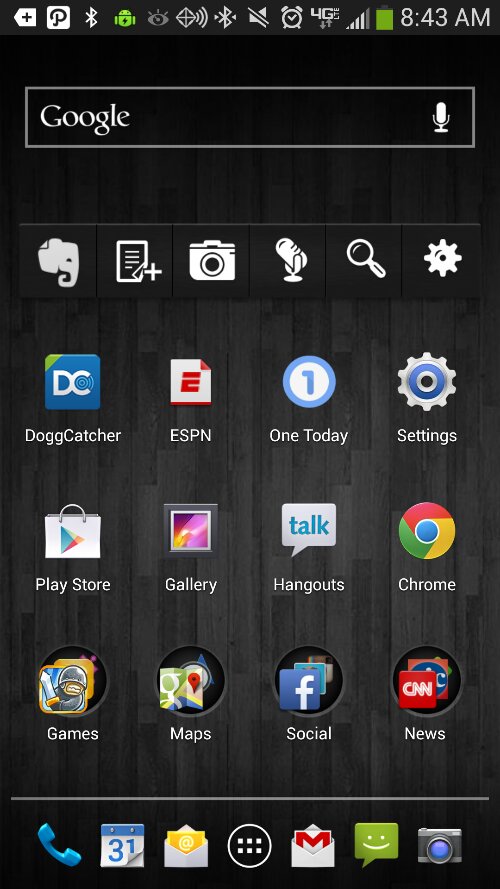 After sharing my homescreen and favorite Android apps last week, I've made some changes that I thought I would share.
The Evernote Toolbar: I LOVE that you can do this on Android. You can see just under the Google bar there are Evernote options. This allows me to immediately add a note to Evernote (text, photo or voice). Incredibly handy for an Evernote addict like myself.
Link to ESPN: This was an oversight as by the time I posted my homescreen last week I still couldn't figure out how to get a link to a webpage on the homescreen. Honestly this is something I struggle with on Android a few times a week. For instance, this morning I was trying to figure out how to use my phone as a hotspot and simply couldn't figure out where to activate that feature*. But I figured it out (save the webpage as a bookmark, then go to the homescreen, long-press to pop-up the options, click "shortcuts", then bookmark, and choose your site), and got ESPN back on the homescreen. I check that multiple times a day.
Folders: I decided to create folders to organize the bottom row on the homescreen. One for Games (which I almost never use so will probably remove that soon), Maps (includes Google Maps, Waze and Navigation), Social (includes Facebook, Twitter, Instagram, WordPress, LinkedIn and Path), and News (includes Flipboard, Feedly, Pocket, CNN and the AJC).
Removed: Google+, AirDroid and The Weather Channel. Just wasn't checking those enough to warrant homescreen real estate. Actually, I NEVER check Google+ on my phone. And only on my computer to check my photos and video which automatically sync from my phone (great feature).
* It's possible that on the Verizon Galaxy S4 you cannot create a hotspot, but because Android has trained me that sometimes their UI is impossible to figure out, I just kept searching and searching until I gave up in frustration.