How I use Evernote to keep track of my to-do list
Um, Evernote, were you reading my diary? Or at least my blog?
See, I've been struggling with landing on a solid to-do process for years. In fact, you'll see in September of last year I blogged about my process for managing my to-do list and ended up deciding to use Evernote but wishing they had a way to set due dates.
And finally, Evernote's most recent update introduced "Reminders", a feature that allows you to attach a due date to a note. You set the date and get an alert when the due date arrives. Here's how I use it: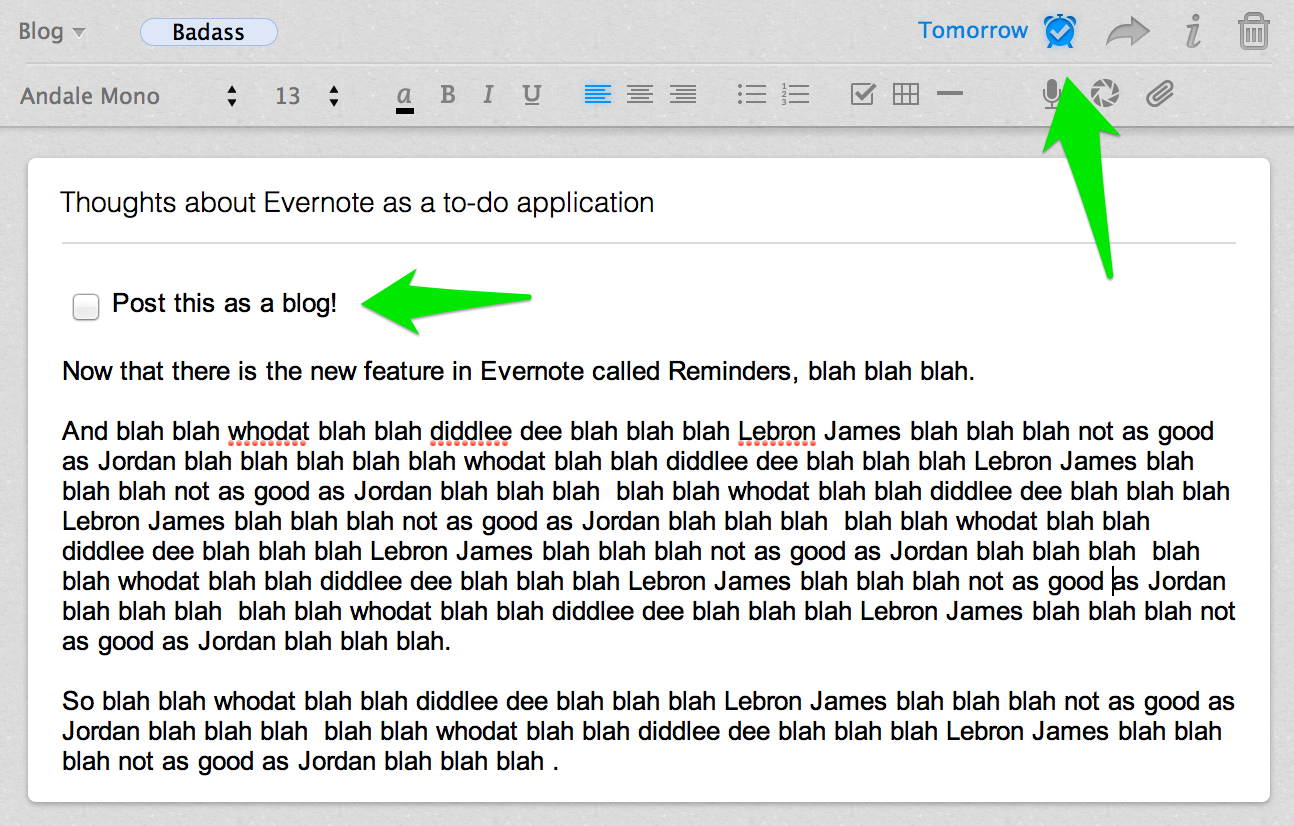 Notice the green arrow at the top right. That's where the Reminder is set. I can change that or mark the note as "complete" from that icon. The thing that I do that might be different than some is I create a checkbox for to-do's at the top of the note, as indicated by the green arrow on the left.
For example, I might take a lot of notes during a particular meeting. And let's say there are five action items that I need to make sure I complete. I would create five checkboxes at the top of the note and create a reminder for when they are due. The great thing is that now the to-do is attached to the note itself, so there is context for me as I go to complete that task.
Reminders show up at the top of your notes list so that they are always present (if you want them to be). That looks like this:

Oops, looks like I need to schedule my fantasy football draft too. Yes I have a folder for fantasy football. Deal with it.
Perhaps my favorite aspect of using Evernote as both my note-taking digital brain AND my to-do application is that I can use one app for both functions. The trouble I had when trying to use both Evernote and Omnifocus (a fantastic note-taking app) was that I couldn't always remember to check Omnifocus. I always check email and I always use/check Evernote. I find that now I'm on top of my to-do's more than before because I basically live in Evernote during the day.