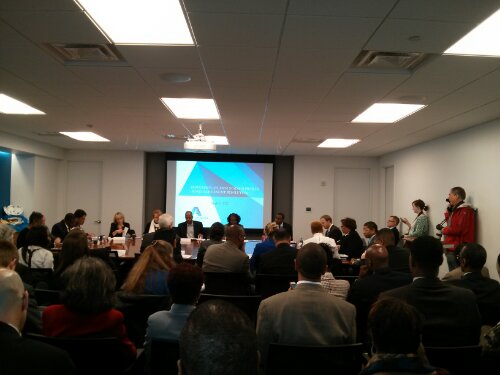 I don't usually write much about Atlanta politics, or any politics for that matter, but this morning I had the pleasure of being invited to attend the Invest Atlanta bond resolution for the new Falcons stadium by a good friend. Essentially this is the final piece of the puzzle to approving the new Falcons stadiums creation. And I was thrilled to be in attendance – so much so that I even wore a suit and tie :)
As expected,  Invest Atlanta approved the bond issuance as well as the hotel motel tax funding agreement,  and a tax allocation that will put $15 million of improvements into communities directly around the new stadium. Blank will be adding another $15 million to those improvements as well.
This is a great day for the city of Atlanta in my opinion. The funds the city will provide through the hotel motel tax – something around $200 million – will not only allow the city to keep the Falcons but also will allow Atlanta to bring large events into the city such as the Super Bowl or the World Cup. Additionally I've heard that the city would have had to provide tremendous dollars to upgrade the existing stadium over the next several years with some estimates being more than the $200 million the city will contribute to the new stadium (Blank is providing the remaining $800 million).
The new stadium is expected to be completed by July 2017.