What I learned from Sam's Club CEO Rosalind Brewer (via Leadership Atlanta)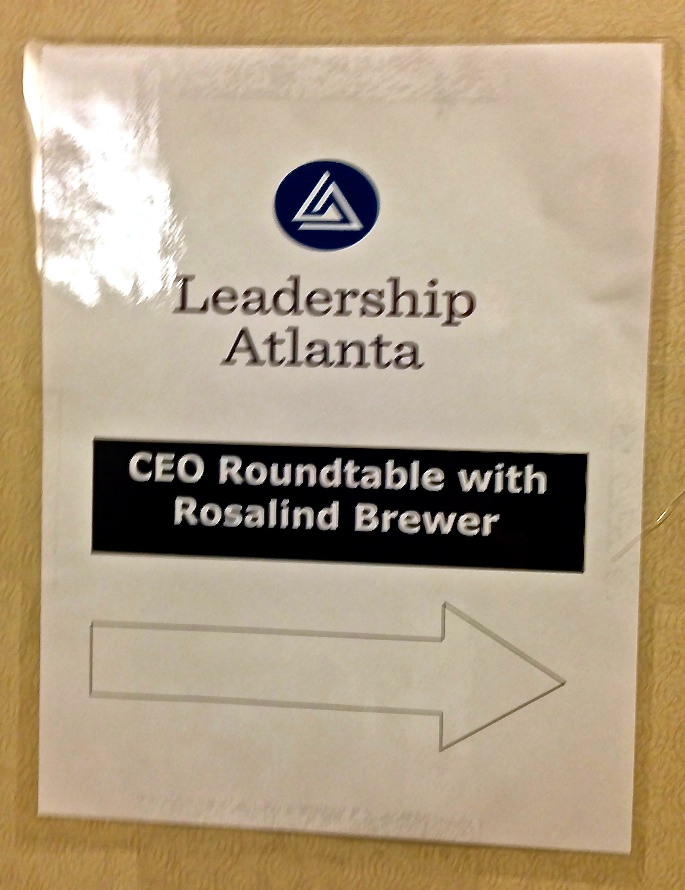 It can't keep getting better. That's what I keep telling myself. That my experience with Leadership Atlanta can't get any better. But it does.
From the opening retreat, to the infamous Race Awareness Weekend, to the experiences getting to know my incredible classmates (clearly the best class ever!), it just keeps getting better with each and every experience. And I am so thankful for how it is changing me.
We've moved into the portion of our schedule where we get a chance to interview CEO's in Atlanta. Monday we had the chance to spend an hour and a half with one of the most impressive women leaders people I have ever met.
Rosalind Brewer is the President and CEO of Sam's Club. Her background is crazy impressive. Forbes listed her as one of the most powerful women in the world. Like, on the entire planet.
And in case you were wondering, Sam's Club (a part of Walmart Stores) is a $50 billion company with over 600 stores and hundreds of thousands of employees. It's a big role.
Rosalind couldn't have been more accommodating, open or approachable. For someone who could easily carry herself with the attitude of, I've Already Accomplished More Than You Will In Your Entire Lifetime, because she has, she was as humble a leader as I've ever met.
And I learned a lot in that short period of time. Things that will certainly help shape my leadership skills over the rest of my career and I couldn't help but share some of that here.
What I learned from Rosalind Brewer:
She credited a "thirst for learning" as a major key to her success, from the time she got started as a scientist at Kimberly-Clark to her position today.
Personal integrity and a focus on relationships have been the cornerstones of her career and have allowed her to continue to find new and exciting ways to take on roles that challenge her.
Rosalind talked about the six points of her leadership philosophy, which are:
Create a clear vision for your team and inspire them to march toward it
Live the values you want to instill in your organization. For her, these values are: Trust, Candor (frank conversations), Integrity and Respect.
Be ready to lead. Be prepared to lead when you're not the leader. She said that you can pick a leader out as soon as they walk into a room, even if they aren't technically the leader. This is a point I agree with wholeheartedly.
Lead for change. Things will always change and as a leader, you should be a catalyst for that change rather than a roadblock. "Always challenge the status quo".
Keep it simple and consistent. Your team should clearly understand their goals and what's expected of them. Strive for simplicity as a leader.
Own your mistakes. Communicate a lot, early and often, and have a plan for how to correct your mistake. Again, admitting mistakes is something I try to live by as well.
On how to lead your team toward a BHAG (Big Hairy Audacious Goal), she follows these principles:
Provide a clear roadmap
Use intensity in showing your passion for the goal and why it is a priority
Set clear milestones to set a path for success
Monitor progress frequently, but don't micromanage
Then she talked about the concept of "the whole person" as it relates to success. To me this was the most impactful part of our dialogue and something I plan to incorporate into my leadership immediately.
"The whole person", or defining personal success, incorporates these three pillars:
She stressed the importance of measuring yourself against these three areas rather than only looking at your work goals. And she talked about how Walmart embraces this concept, making it a great place to work. Too often I think we look back at a year and think about it being successful in terms of work alone.
Again, I want to thank Leadership Atlanta for giving me opportunities such as this. And I want to thank you, Rosalind, for being so generous with your time and for making an immediate impact on my life.