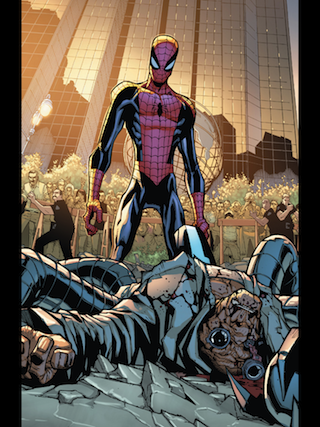 In case you haven't heard, Spider-Man died in the most recent (and final) Amazing Spider-Man #700. Well, he kinda died. See, Doc Ock…actually, just trust me, it happened.
The reason I bring this up on my blog is that Spider-Man was MY guy growing up. I was obsessed, rushing to the comic store every week with the Doughty's to get the latest copies of Web of Spider-Man, Amazing Spider-Man, Spectacular Spider-Man, even Peter Porker: The Spectacular Spider-Ham (no joke) and any other comic that the web-slinger would have a cameo in.
It sounds super cheesy (or dorky, nerdy, geeky…) to say this, but Spider-Man had a fairly large influence on my young life. He was the kind of hero that every kid could imagine themselves being.
You can't really picture yourself as Superman, because you didn't come from an alien planet.
You couldn't picture yourself as the Hulk, a) because you wouldn't want to be the Hulk because that dude is crazy, and b) because you aren't a super genius scientist and you're not going to be near any gamma rays anytime soon.
And not Iron-Man because, as he described himself in one of the best lines in movie history, he's a "genius billionaire playboy philanthropist". That's a hard mark to reach.
But Spider-Man was just a dorky kid who was bitten by a spider. And he had a lot of flaws – was always pressed to make his rent, or keep a job, or land the girl – and that made him more human.
Obviously the Spider-Man character will continue, but the Peter Parker Spider-Man era is over. Thanks for the memories, Pete.