I'm always trying to peek at people's homescreens to see what apps they are using. And from time to time I like to share my homescreen in the hopes of getting people to share theirs. This time I decided to share both my homescreen and the second screen on my iPhone because somehow, even with the larger screen real estate on the iPhone 5, my cup runneth over with good apps.
Oh, and if you're curious, others do this too ;)
Here is my homescreen: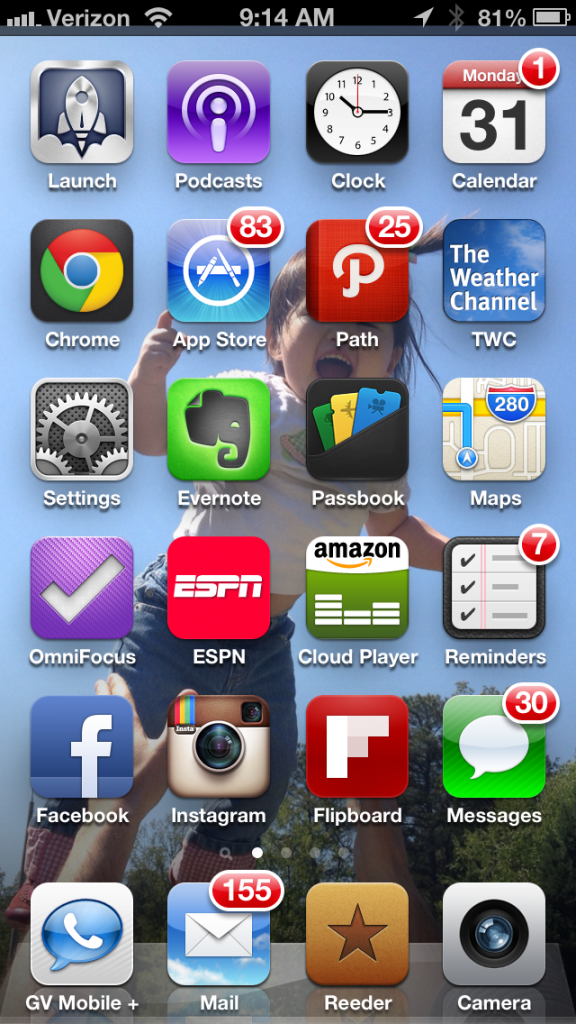 I'm going to point out the apps that require some commentary:
Launch Center Pro – This is a new app that I just recently discovered. It allows you to create shortcuts for tasks that you perform frequently. Since I text my wife quite a bit, there's a button in Launch to start a text to my wife. For jailbreakers, this will seem standard but since there isn't a jailbreak for iOS 6 yet…
Podcasts – Just a note here since this is not a new app or anything, but my "Sportscenter" has become the PTI podcast. I listen to it while I get ready in the morning, because who has time to actually watch Sportscenter on the TV? Other podcasts I subscribe to: Macworld, ESPN's The Thundering Herd, ESPN's The BS Report, ESPN's Mike and Mike, and The Nerdist.
Maps – I still frequently use Apple Maps and have only once had inaccurate information, however as you'll see on my second screen, I do have the Google Maps app and its awesome, so there might be a switch coming soon.
Omnifocus and Evernote – Can't live without 'em. Only change is that I've moved all my personal tasks over to Reminders.
Amazon Cloud Player – I've uploaded all my music to Amazon Cloud and can access it from any device, and my wife and I can both use it even though we have different iTunes accounts. I would have used iTunes Match but it only allows for 25,000 and Amazon's limit is 250,000 songs. So there.
Reeder – Remains my favorite and most used app on the iPhone. And I've used it for a long, long time.
Here is my second screen (which consists of more of my favorite apps plus ones I'm testing):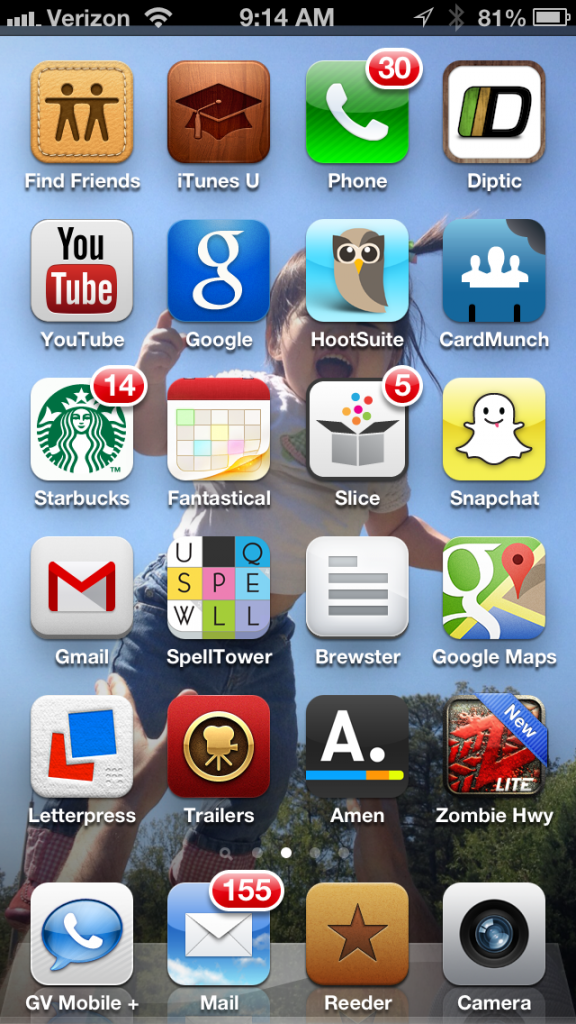 Find Friends – I love this app. Allows my wife and I to see where we are at any given time. Yeah, we trust each other like that.
Diptic – Love this app for splicing photos up and doing things like this.
CardMunch – Allows you to take a picture of a business card and automatically have it connect to LinkedIn for you.
Slice – Maybe my favorite new app in a long time. Track your packages in style.
Fantastical – New calendar app but so far I haven't fallen in love with it the way others have.
Snapchat – Not sure I'm digging this one yet. It's a "this message will self destruct" sharing app.
Brewster – Literally just added this today to try it out. It's a contacts/address book aggregator. I'm always searching for a better contact solution.
Letterpress – Love this iOS game. But you can't play on your own, only against others, which is why I have…
SpellTower – Nice little word game. Very challenging.
Amen – Also just downloaded this today to test it out. Rate your favorite person, place or things type of app. Not sure I'm believing in it but that's why I test these things. My first post from it.
Trailers – I'm a massive trailers junkie. If there could be 10 trailers before a movie I'd be psyched. While this app is more of a staple on my iPad, its still something I use on the iPhone.
Zombie Hwy – Haven't even tried it yet but heard about it on Amen this morning.
So…what am I missing and/or, share your homescreen!