Just got the new Evernote Moleskine notepad in the mail. As most know, I'm a huge Evernote fan and lately I've taken to using an actual notebook (like, paper and pen stuff) to take notes in meetings because I get too distracted with an iPad or laptop in front of me. Then after meetings I take a picture of the note and upload it to Evernote. Works pretty well.
This Moleskine Evernote Smart Notebook (I got the graph paper version) is made for that purpose and it does a great job of it. And I love the Moleskine brand so I was happy to plunk down the money to try this out. So far so good.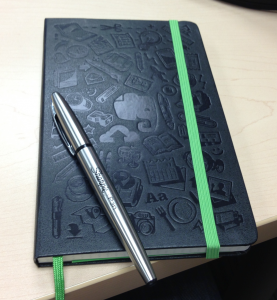 Update – I'm having trouble focusing the camera when in the mode to capture pages, so hopefully that's a bug they'll fix soon. But loving the notebook itself so far.