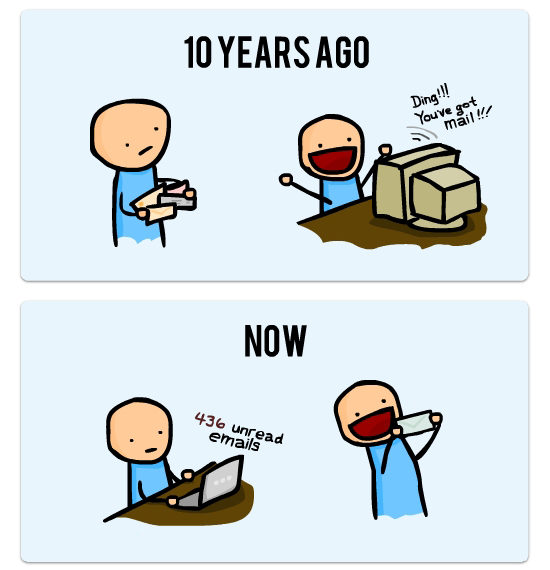 Most people I know are always struggling to find a better solution to all the "stuff" that bombards them throughout the working day. While digital communication is obviously a benefit to us and our work lives, it also comes with a massive amount of "stuff" to deal with.
I've written in the past about a process I was working on to help me organize my business life and I thought I'd give a quick update.
Email – Email is one of those necessary evils that we all love to hate. The trick is not to let email control you. Here's my process for email:
– Things I need to respond to fairly immediately, I leave in my inbox and flag as important. I try to clean that out each and every day.
– Things that are to-do items, I create an Omnifocus task for.
– Things I don't need to respond to but feel I either want to store for future reference or read when I get the time, I forward into my Evernote account with the tag "unread". A few times a week I try to go into Evernote and sort through the "unread" items.
– Anything else, I delete.
This allows me to get as close to inbox zero as possible and stop using email as my to-do list (for the most part). It's just not built to be a to-do application the way professional software like Omnifocus is.
To-do items – I use Omnifocus for to-do management and its fantastic. However, there are plenty of apps, cheap and free, that are great at to-do's (Omnifocus can be pricey). My main recommendation here is to work hard to get your tasks out of email and into a proper to-do application. It will help you be more focused and get more done.
Note-taking – I can't express this enough, but I'm a huge Evernote fan and use it extensively. I do use a spiral notebook to take notes a lot – yes, a regular spiral notebook…graph paper to be specific – because I don't always want to use an iPad or laptop to take notes in a meeting. But then I take a picture of those notes and upload them to Evernote, so either way it all ends up there. And Evernote is great at text recognition from scanned images.
File storage – Dropbox has become my entire file storage plan. It integrates right into your computer and mobile devices and basically I save a file in one place and it is available in all places. I literally don't save anything within my actual laptop file structure any more.
So that's how I manage my "work self". The additional benefit of this setup is that its all "in the cloud". I could grab any computer and in five minutes be able to replicate my existing computer and begin working. Being someone that switches devices and laptops fairly regularly, this is a huge benefit.
:::::::::::::::
UPDATE :: I've decided that its too cumbersome – for me – to have Evernote, Dropbox, Email AND a to-do app. So I've now moved to using Evernote as a t0-do app as well. It's not ideal, as there still isn't a way to set a due date for a note, but I can hold out hope (in fact, I'm working on a post with all my hopes and dreams for Evernote).
What I've done is created a folder called, "Action Pending". Now, any to-do that I have I put in that folder as an individual note. What's interesting is, because there is no due date and no reminder, I'm almost forced to check that folder frequently to see what's in there. So far (a month in) its working better. Sorry, Omnifocus ;(