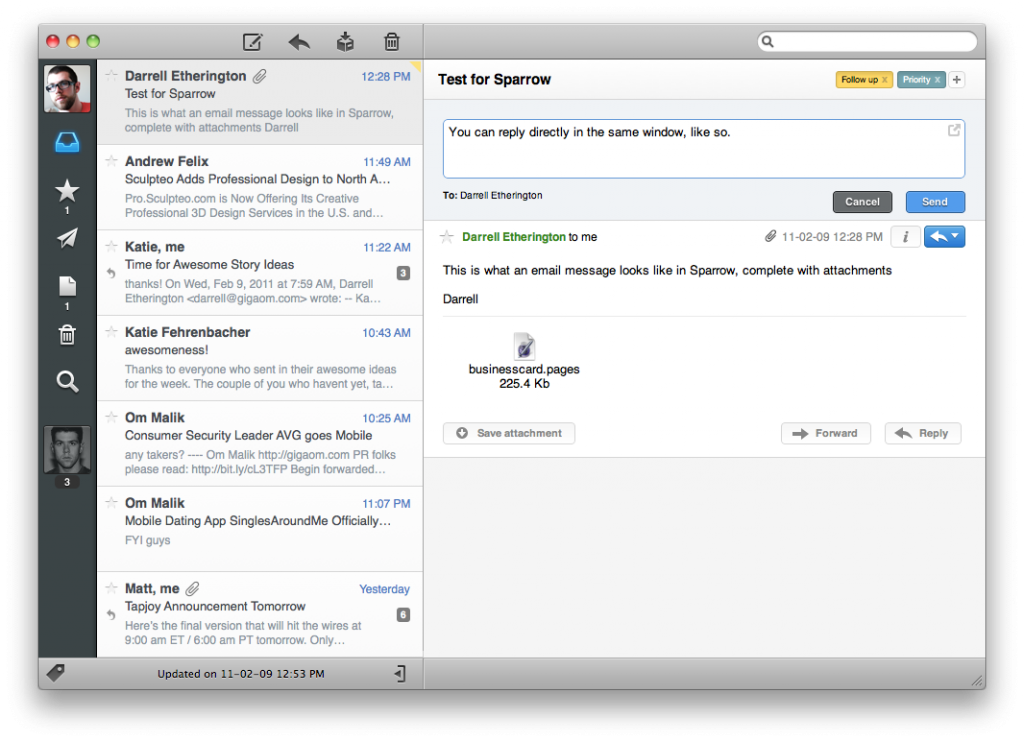 Having upgraded to Mountain Lion out of the gates (of course I did) and because I have the Retina Pro (again, no surprise), I have found myself in the odd position of actually feeling the pain of what some call the "early adopter". Typically with Mac products there isn't a problem with upgrading when a new operating system or hardware comes out. Stuff just works. Not this time, at least for me.
My big struggle is the email client on the Mac (Mail) not working properly with Microsoft Exchange. I'm a big fan of Mail over Outlook, having used Outlook for a solid decade it seems and always feeling it was too much of a memory hog. I have this debate with many people who still love Outlook but Mail does everything I need plus it runs (or used to run) great on the Mac.
All this to say that I can't use Mail right now because its too buggy, so I needed a new email client to try out while I wait for the update that will hopefully fix my problems. I had wanted to try out Sparrow for some time but when they were acquired by Google recently I decided to hold off. I'm glad I was forced to try it though because this software is definitely in line with what I like from an email client. So while I realize there's no telling what will happen with Sparrow now that Google owns it, I thought I'd share a quick review of why I like it.
It's simple and light. As I stated earlier, I don't use Outlook because I find it far too bulky both from a UI standpoint and a memory/resources perspective. Sparrow is quite the opposite. It's a simple, peppy little program. And its fast.
It's fun. The way this application was built is just more fun than most other email clients I've used. From the design of it to the icons, I find it to a much more enjoyable experience. Plus it uses Facebook Connect to pull in your contacts' photos so they show up in messages, which is a fun little addition. More than one person has looked over my shoulder and commented on how cool that is. It also can feel like a Twitter app visually if you're into that (I'm not).
It has direct Dropbox integration. I talked about my love for Dropbox in April in a post entitled, I finally figured out my plan email, to-do's, note-taking and the cloud. One thing I really enjoy about using Dropbox as my file management tool is that I can send people links to download files instead of attaching files directly into email. One day we'll look back at how we were sending massive files all over the place within our emails as hilarious. Why do that when you can just send a link and allow someone to download it when/if they want? With Sparrow having Dropbox embedded into the software, you can easily drag a file from your Dropbox into an email and it creates the link on the fly. A terrific feature.
It has priority inbox functionality for Gmail. This is a BIG one for me. I can't state how much I love the priority inbox in Gmail. I've mentioned it briefly before (in this post about Google slowly taking over my life), but the ability to have my email sorted by what's important and what's not has been incredibly helpful and until now I hadn't been able to find an email client that allows for this. I might buy the Sparrow iPhone app because of this actually.
The downside is that it doesn't support Microsoft Exchange so you have to use IMAP, but I've gotten over that with all the other benefits. Just hoping now that Google has plans to keep it around.
~ thanks to GigaOm for the pic above and a nice write up last year on Sparrow.