One of the biggest inhibitors to happiness and success is people not understanding and embracing the rules of the game.  Your reality is what it is.  You can do things to change that, sure, but for the most part these things are, well, reality. People who constantly struggle to accept their own reality are always going to have a hard time succeeding. And a harder time being happy.
Let's start with a sport. In basketball, the degree to which the refs call fouls varies depending on many factors – the ref team working the game, the players in the game, the atmosphere, whether its the regular season or the playoffs, etc. One night the refs will call fouls that the next night wouldn't even be close to a foul. So the players have to get a feel for the ref team throughout the game in order to know how aggressively they can or cannot be when the game is on the line. The players can either realize the rules of that game and adjust, or they can whine constantly and commit fouls and win less (or what I call, "pulling a Paul Pierce").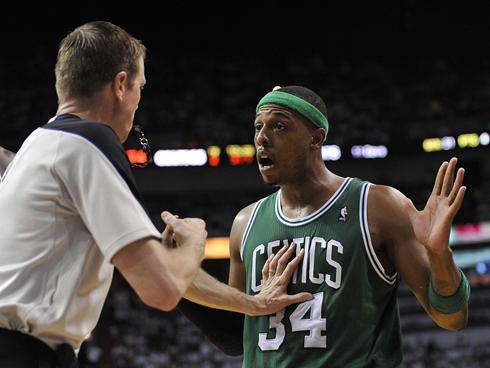 The same analogy can be made in business and in life. Some things are just reality.
In your professional career, if you really want to be successful, you need to understand the reality you're in and adjust accordingly. Here is an example of someone that I used to work with that, rather than come to terms with what would be needed to be successful, he chose instead to constantly be surprised that things weren't set up the way he wanted them to be and because of that, he wasn't as successful as he could have been. Incredibly bright guy and someone I miss working with. But he struggled because he didn't simply accept the reality of his situation and figure out a way to work around it.
Accepting your reality can also be a way to put yourself on the path to being more positive (and happier because of it). I talked about this in a recent post on making your own luck. We went on a vacation recently and had to evacuate the island we were staying at because of a tropical storm. Ok, that just happened. Instead of spending the rest of our trip complaining about what could have been, we reset our expectations, embraced the fact that Chucky Cheese's would be the most fun we could have while staying in Tallahassee in a hotel, and we made THAT our new vacation. The game changed and we changed our attitude. And the kids had a blast.
The more I think about why people are unhappy and why people are negative, the more I think it has to do with accepting certain things and reshaping your expectations accordingly.
My wife has a really good friend from college that is so sick that she has to sit or lay down practically every hour of every day. She can only stand up for brief moments. She's also in constant pain. She can't work. And she's been like this since a month after she graduated from college (1998). She was perfectly healthy, was going to go to medical school and then her entire world flipped upside down. She contracted chronic lyme disease and developed dysautonomia. Yet somehow she radiates happiness and positivity. It's inspiring to me to think about her and what she's going through and how amazingly she handles it.
If she can accept the situation she's in and make the best of it, I sure as heck can accept the fact that my vacation was changed due to a tropical storm. When you start looking at the world through other people's eyes, people who are far less fortunate than you are, you start to realize that you have it pretty dang good. Even your bad days are far better than so many other people's best days.
It's why we look at incredibly rich people and think, "If I had all that money I'd be so happy". Sure, because you're thinking about that new reality in the context of your current reality. But the person who is super rich forgets what it was like (or never knew) to not have money and because of that they can't be happy with their reality either. And if you're reading this, that means that 90% of the entire world is looking at you and saying how happy they'd be if they were as rich as you are. If they had running water. If they could get up and walk around. If they had a roof over their head.
Accept your place in life and in your career. Embrace the rules and the reality of the scenario. And by all means, try to change the things you don't like, but also try to be as successful and as happy as you can be in your reality instead of wishing for a different one. That will only lead to a negative outlook and that's no way to live your life.