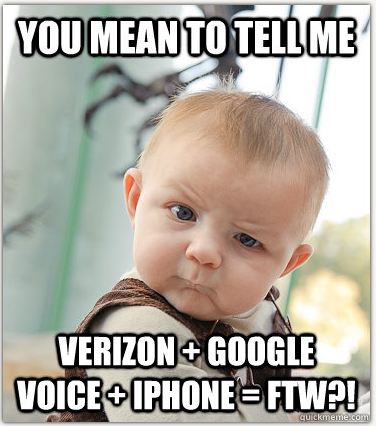 Some of you know the saga I went through with cell phone carriers lately. The long and short is, I used to be on AT&T and in Atlanta the service is very poor and at a certain point I just couldn't take it anymore. So I researched and saw that Sprint had very good reviews in Atlanta and bonus, Sprint had the ability to integrate Google Voice so that it would run natively on the iPhone. (if you're curious, here's why I love Google Voice)
So I switched to Sprint. And it sucked. Not only was the service perhaps worse than AT&T, but the Google Voice integration never really worked.
About two months ago I switched to Verizon. I have not dropped one call yet. In two months. Seriously.
I love the service with Verizon. I get service everywhere, including in my house which seems to be in a black hole when it comes to both AT&T and Sprint.
In order to get Google Voice integrated onto the iPhone, I had to jailbreak it. I didn't want to do that but until Verizon allows you to port your Google Voice number directly into your phone, it's the only way. I used the apps Phone GV Extension and SMS GV Extension. Works like a charm now.
If you're not satisfied with AT&T or Sprint, I can't recommend highly enough the switch to Verizon. It just works better.