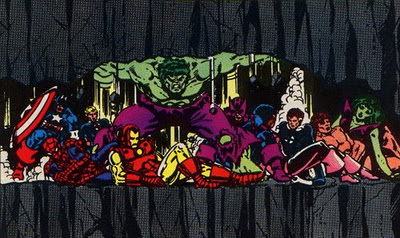 My six-year old son announced to me on the way to church yesterday that when he grows up, he wants to "create superheroes".
I said, "Like Stan Lee. Cool." And he said, "You mean, Flat Stanley?"
I said, "No, his name is Stan Lee and he created a bunch of superheroes, like Spiderman."
"No," he said. "I want to actually take real people and turn them into superheroes. Then there would be awesome battles."
Ah, now that's ambition.
We kicked that idea around and debated whether or not the world would be better off with superheroes or without them.
My point was, if people have the ability to have super powers, the evil people would certainly become powerful as well. And, I pointed out, that could be very scary.
"Yeah, but the battles would be awesome!" he said. Indeed.
But it did get me thinking, would we want to have superheroes if we could? Would the good they could do outweigh the bad that the super villains would do?
It's a debate I thought might be interesting to throw out to you guys because I happen to know a lot of you are superhero geeks like me.
So…where do you fall on this? Better off without superheroes or with them?