As I was chucking the bag of McDonald's out of my car window in the middle of traffic I thought to myself, this can't look good. In fact, I was suddenly worried I might get arrested. Oh but I started with all the best intentions…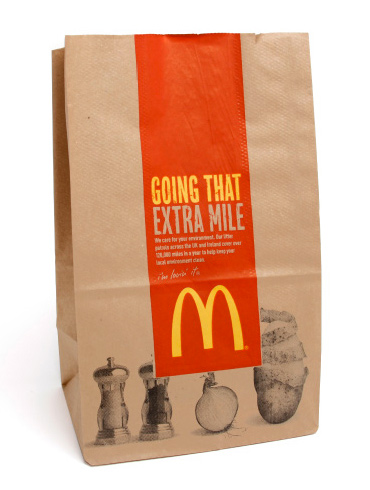 I was driving home last week a little early as it was my seven-year old's birthday and we were going to have dinner and then show him the first Harry Potter movie. The plan was to go out to Steak-n-Shake when he called an audible at the last minute and decided he wanted McDonald's. This was the choice my wife and I were fearing as we're both NOT huge McDonald's fans, rarely eating at any fast food place other than Chick-fil-A, but the opportunity to get the newest $.05 plastic toy that they were shilling at the moment overcame my son and on my way home I found out I was to pick up McDonald's.
Heading down the ramp off 85N I pulled into the left lane instead of the right lane which would take me home. I could see McDonald's from the light, making it easy to swing over and then double back to get home. As I was waiting at the light, a homeless man was walking from car to car behind me asking for money. I almost never have cash but since I did in this case, I tried to get his attention out of my window but he never saw me.
Then I had a flash of brilliance. I'll just order him some McDonald's along with the order for my kids and hand it to him when I drove back by. Traffic was crazy and no one was moving so I figured I'd be able to get his attention at the light and have him come over and get the bag.
I got the happy meals from the drive-thru (my wife and I would be having left-overs) and I ordered three cheeseburgers and two apple pies. I figured my homeless friend would appreciate that. Of course I felt like a cheapskate when I realized that entire order for him was a tight $4. Oh I'm an incredibly generous human being.
My plan was working perfectly as I waited through three lights to even get out of the McDonald's. Surely I'd sit through at least two lights at his intersection and have plenty of time to hand him his dinner, maybe ask him how he's doing and wish him luck.
Of course that's now how it happened at all. Feeling all good about myself for doing something nice, I started to get uneasy as I began approaching his traffic light and realizing, we're not going to stop. In fact we were suddenly moving very fast. Too fast.
Now, I really wanted to do the right thing and help this guy out. And I also really didn't want to bring home a bunch of extra McDonald's to my house. I really had no other choice if you think about it.
So as I got closer I began to honk my horn a bunch and wave my hand out of the window, trying to catch his attention. Right as I was about to pass him he turned and saw me, and I hurled the bag of McDonald's out of my window toward him. Not at him, mind you. He was still about 15 feet away.
I'm sure everyone around me thought I was some huge loser, littering my disgusting eating habits onto the street and the good thing was, since I honked a bunch right before doing it, I'm sure everyone around me saw it.
At least I didn't get arrested.