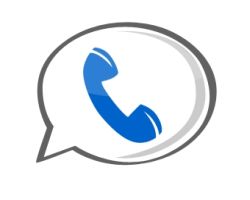 I love Google Voice. I've written before about the 7 reasons I love Google Voice, so I won't dive into that again, but let's just say its one of my favorite services…ever. And if you don't use or know what Google Voice is, you a) should check it out and get a Google Voice number and b) probably not read the rest of this post because my guess is it won't make much sense or be relevant to you.
The problem with Google Voice has been, to date, that you couldn't have your Google Voice number embedded into your iPhone so that its your native number. Yes, I know, you can use it with an Android device, absolutely. On the iPhone, you can use Google Voice apps, which generally stink, but you can't just dial a number from your iPhone's native phone function and have it call from your Google Voice number. Until now.
Supposedly.
Sprint announced earlier this year that you can embed your Google Voice number into your Sprint iPhone so that its the native number on the phone. So a few weeks back, I left AT&T and signed up with Sprint.
The results so far have been, kinda…meh.
No MMS. One of the downfalls of Google Voice is that so far, it doesn't allow MMS. So that means no pictures or video can be texted to you. This is only really a problem when people don't realize that you can't receive MMS. It's a pain in general, but when people ask you, "Hey, how come you never responded to that cute picture of my kid I texted you last week?", you look like a doofus. I was hoping with the Sprint integration that you could get MMS since it is the native number of the phone, but sadly, not yet.
No visual voicemail. On the iPhone you have what they call visual voicemail, which isn't really an innovative feature but when you don't have it, you realize how antiquated the old way of checking voicemail was – dialing your voicemail number and pushing 1 to then listen to your voicemails. "Seeing" your voicemails is much better. The good news is that Google Voice translates your voicemails and will email them to you, so that's at least a workaround at this point.
No iMessage integration. For some reason, when you use iMessage (the messaging system on the iPhone that connects all your devices and allows you to "message" any other iPhone user for free) it will run through your original Sprint number and not your Google Voice number. This is a pain, mainly because…
… there is no Siri integration. Siri uses iMessage to send texts. So when I use Siri when I'm driving (which is the main time I use her/it), it will text from my Sprint number, which defeats the purpose.
Sometimes when I call, it comes from my Sprint number and sometimes from my Google Voice number. This is really the biggest issue because I still can't figure out why and when it does this.
I've heard that all of these problems are being addressed. In the meantime, its still worth it to have the direct integration most of the time. At least more worth it than switching BACK to AT&T at the moment. And coincidentally, the Google Voice app works WAY better on this Sprint iPhone. I'm not sure why, but it never seems to crash the way it did on the AT&T iPhone and for that simple reason, I can use the app for calls and texts very easily.
But if you're thinking of switching to Sprint just for the Google Voice integration, I'd wait until a few more of these kinks are worked out.